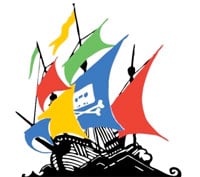 In recent years Hollywood has taken a rather aggressive approach against Google. The movie studios believe that the search engine isn't doing enough to limit piracy, and have demanded more stringent measures.
One of the suggestions often made is to boost the visibility of legal movie services in search results. For example, show a list of streaming and download portals when users search for a movie.
In recent months Google has experimented with exactly this. People who search for classic "pirate" terms may see ads for legal options. In addition, the search engine now shows a snippet with all sorts of movie details when people search for a title.
This movie information also includes reviews and ratings from around the web, with links to IMDb, Rotten Tomatoes, Metacritic and other prominent sites. A useful feature for sure, but Hollywood will not like all of the sites that are featured.
Among various established sources, Google is also showing ratings from the "pirate" streaming site FMovies. As can be seen below, FMovies user ratings are tucked between IMDb and Rotten Tomatoes, using the rather inviting title "Watch Free Movies Online."
Watch Free Movies Online (context, different search)

While FMovies ratings only appear incidentally, we have seen it across different browsers and on both desktop and mobile searches.
The link in question points directly to the FMovies page where a high quality stream of the film is readily available. In addition, users can opt to download it directly to their computer or mobile device.
Love (2015)
The FMovies ratings appear in the movie snippet because FMovies is using Google's review markup. This allows any site to be featured there, when it complies with all the quality guidelines.
When Google announced the ratings feature last year it said it offers "publishers with an opportunity to increase the discoverability and consumption of their reviews using markup," but we doubt that pirate sites are meant to be included.
Ironically, one of the tools that is supposed to divert people from pirate searches is now used to link people to one directly. Mistake or not, the movie studios will use these and other examples to argue that Google still has a long way to go.
Meanwhile, FMovies is enjoying the free traffic, for as long as it lasts.