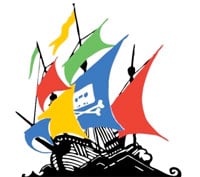 Google will soon take into consideration the number of DMCA takedown notices it receives against sites to determine the ranking of those websites in its search results.
"Starting next week, we will begin taking into account a new signal in our rankings: the number of valid copyright removal notices we receive for any given site. Sites with high numbers of removal notices may appear lower in our results," Google's Amit Singhal writes in a blog post.
Earlier this year Google decided to publish all takedown requests online as part of their transparency report, and they will now use this data as part of their search algorithm. This means that websites for which Google receives a high number of valid takedown requests will be penalized.
The top receivers of these notices over the past year were filestube.com, extratorrent.com, torrenthound.com, bitsnoop.com and isohunt.com. They can expect to appear lower in future search results and will therefore receive less traffic through Google searches. Whether Google will downgrade YouTube, where (tens of) thousands of videos are routinely disabled because of alleged infringements, is unknown at this point.
Google stresses that it doesn't know whether content is authorized or not, so removal of pages from its search results will only take place following a valid DMCA takedown notice.
"Only copyright holders know if something is authorized, and only courts can decide if a copyright has been infringed; Google cannot determine whether a particular webpage does or does not violate copyright law," Singhal writes.
"So while this new signal will influence the ranking of some search results, we won't be removing any pages from search results unless we receive a valid copyright removal notice from the rights owner."
One of the main problems with Google's new ranking is that perfectly legitimate content on sites with a high number of takedown requests will be degraded as well. Taking YouTube as an example, millions of relevant and legal search results will be degraded simply because there are a high number of "unauthorized" videos posted to the site.
Adding the high number of bogus DMCA notices which Google sees as valid, many sites may also be punished for the faulty takedown requests that copyright holders send. That's worrying to say the least.
For Hollywood and the major music labels Google's announcement is a clear win. In fact, it was one of the three demands they handed out to Google, Bing and Yahoo last year during a behind-closed-doors meeting.
The other two demands were "prioritize websites that obtain certification as a licensed site under a recognized scheme" and "stop indexing websites that are subject to court orders while establishing suitable procedures to de-index substantially infringing sites."
Whether Google will also adopt these suggestions remains to be seen.