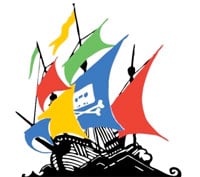 The Syndicat National de L'édition Phonographique (SNEP) is an organization set up to protect the rights of the French recording industry. SNEP collects royalties for its member labels and also carries out anti-piracy activities on their behalf.
As part of their anti-filesharing actions, in April 2010 SNEP initiated legal action against Google in an attempt to force the search giant to filter certain terms from their auto-suggest feature. It will come as little surprise that the words targeted were 'torrent', 'RapidShare' and 'MegaUpload'.
SNEP's case relied on Article L336-2 of France's intellectual property code. The article states:
"In the presence of an infringement of copyright or related right caused by the contents of a communication service to the public online, the high court, acting as appropriate in summary proceedings," is authorized to take "all appropriate measures to prevent or halt such infringement…"
As noted by news outlet Numerama, this provision was introduced into law in anticipation that some day ISPs would be asked to block access to file-sharing sites. SNEP clearly thought they could extend the target of the legislation in their favor.
In September 2010, the Tribunal de Grande Instance de Paris rejected the complaint and ordered SNEP to pay Google 5,000 euros in costs. Dissatisfied with the court's decision, SNEP took the case to appeal, asking for damages of 1,000 euros for every day the results appeared in Google's listings. Furthermore, they added a list of artists, albums and songs to be filtered in connection with the above terms.
This week the Court of Appeal in Paris handed down its ruling. In common with the earlier decision, the Court found that the mere presentation of terms in a set of search results did not necessarily mean that an infringement of copyright would follow.
Furthermore, in an apparent reference to RapidShare and MegaUpload, the Court noted that just because users of these sites can use them to transfer unauthorized copies of music, it does not automatically follow that the sites are rendered illegal as a result. The Court also made clear that SNEP could not hold Google responsible for the subsequent activities of Internet users who use their search engine.
However, as first reported by TorrentFreak earlier this year, Google already took the decision to filter its auto-suggest feature, a move duly noted by the Court of Appeal. But does it then follow that this act of self-censorship must be an admission of guilt?
"The fact that Google has filtered its results does not mean that they have complied with [SNEP's] request and admitted responsibility," said the Judge, adding that despite Google's actions, any infringing content still remains on the web.
Once again the case was decided in Google's favor and SNEP was ordered to pay 5,000 euros costs.