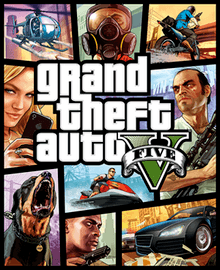 There's a bit of a trend emerging in which gaming companies use copyright legislation against cheaters.
Take-Two Interactive Software, the company behind 'Grand Theft Auto V' (GTA V), is one of the players. The company has filed several lawsuits in the US targeting alleged cheaters.
In one case, a New York court recently issued a preliminary injunction ordering a man to stop working on and distributing the 'Menyoo' and 'Absolute' cheats.
The defendant, Georgia resident David Zipperer, didn't deny his involvement and said he had already ceased working on the cheats. However, he had to find a lawyer as Take-Two was not letting the case go easily.
Following a referral from the EFF, Zipperer received "pro bono" help from attorney Joel Rothman. That didn't last long. After a failed attempt to transfer the case to another district or otherwise resolve the case, the attorney is withdrawing from the case.
According to the attorney, Take-Two is increasing the costs and time for Zipperer's defense, to "shake him free" of his pro bono counsel.
"I do not have the resources to go up against Kirkland & Ellis in scorched-earth discovery in a pro bono case. I cannot afford the time and money to fly around the country taking the depositions of Take-Two employees," Rothman wrote to the court.
The attorney discussed a possible settlement with Take-Two, but the "tens of thousands" of dollars the company wants is not something his client can pay, he says.
"My client has no money. He swore to this Court that the money he earned from selling 'cheat menus' was used to support his family, that the money is gone, and that he has none left.
"He is an unemployed day laborer with a ninth-grade education who taught himself to write code. I have told this over and over to Take-Two's lawyers, but they continue to demand a pound of flesh from Zipperer."
Rothman, therefore, asked the Court to halt the discovery proceedings for thirty days so his client can find a new attorney, or prepare to represent himself.
Take-Two clearly sees things differently. A day after the attorney's request was filed the company submitted a scathing reply, painting an opposing picture. According to the company, Zipperer has repeatedly misled the Court regarding his financial situation.
Through a subpoena, they learned that the defendant's profits exceed $100,000 and that the most recent payment only dates a few months back. Some of the profits were spent on expensive electronic equipment and other personal purchases.
"Mr. Zipperer clearly has significantly more resources than he has repeatedly represented to this Court. We believe that these PayPal records reflect only a small fraction of the proceeds Mr. Zipperer has received from his illegal businesses," the company writes.
Take-Two says that the case should not be delayed any further, also because there's a chance that this will help the defendant to hide his assets.
"There are many litigants who need legal services and who legitimately do not have the means to pay for them. Mr. Zipperer is not one of them," the company informs the Court.
"He is a man that has collected over a hundred thousand dollars by distributing an infringing work that harmed Take-Two and its customers who wanted to play Take-Two's game without being 'griefed'."
After reviewing the submissions from both sides the Court sided with Take-Two (pdf), which means that the case won't be delayed.
While Take-Two's approach, in this case, may seem aggressive, it's not always that way. Earlier this week it settled its case with Christopher Pei, who worked on the Infamous and Menyoo cheats. While Pei admits the infringing activities, both parties agreed to pay their own costs.
Meanwhile, Take-Two also filed a new lawsuit late last week. The company sued (pdf) Florida resident Jhonny Perez, accusing him of copyright infringement by creating and distributing the cheating tool "Elusive."