Last week, news broke that a hacker, or hackers, had compromised the network of the American cable and television network HBO.
Those responsible sent out an email to reporters, announcing the prominent breach, and leaked files surfaced on the dedicated website Winter-leak.com.
While the latter is no longer accessible, the hackers are not done yet. Another curated batch of leaked files has now appeared online, revealing more Game of Thrones spoilers, marketing plans, and other confidential HBO files.
The first leak put a preliminary outline of the fourth episode of the current Game of Thrones season in the spotlight, and the second batch follows up with the same for the upcoming fifth episode.
Although the outline was prepared over a year ago, it likely contains various accurate spoilers, which we won't repeat here.
Preliminary outline S07E05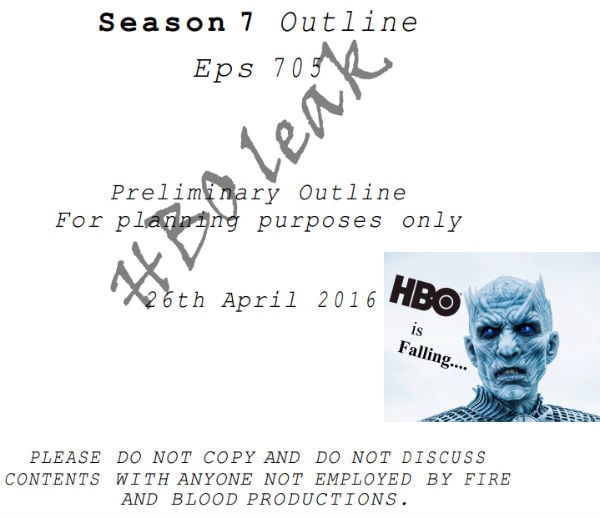 The new data dump, which is a subsection of the 1.5 terabytes of data the hackers claimed to have in their possession, also lists a variety of other Game of Thrones related files.
Among other items, there's a confidential cast list for the current season, a highly confidential "Game of Ideas" brief, an outline of GoT marketing strategies, and a Game of Thrones roadmap. The information all appears to be a few months old.
The hackers took a screenshot of several folders, where the files may have been taken from, as seen below.
Folders screenshot
In addition, the hackers provided 'proof' that they have emails, which according to AP point to HBO's vice president for film programming Leslie Cohen.
Finally, the new batch contains a video letter to HBO CEO Richard Plepler, titled "First letter to HBO," where a certain Mr. Smith takes credit for the hack. The letter offered to keep the information away from the public, in exchange for a ransom payment.
First letter to HBO
For spoiler-eager Game of Thrones fans the hack is a true treasure trove. However, like the first batch, no leaked episodes are included. And, based on another screenshot, these are probably not on the way either.
A "Series Screenshot" includes a list of likely compromised titles, such as The Deviant Ones and the previously leaked Barry, Ballers, and Room 104, but no Game of Thrones.
A leak of the fourth GoT episode did appear online late last week, but this wasn't linked to the breach of HBO's network. Still, HBO is likely not amused and will do everything in its power to catch those responsible.