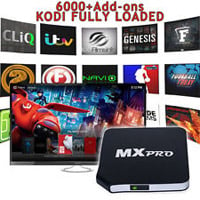 While millions of people around the globe share files using BitTorrent every day, there are some who prefer to stream their content instead.
These users can easily visit any one of thousands of streaming portals via a desktop web browser but for those looking for complete convenience, set-top boxes offer a perfect solution.
These devices, often Android-based, regularly come with the Kodi media center already installed. However, Kodi provides no illegal content – custom addons do – and it's their inclusion in the package that provides users with what they want – free (or cost reduced) movies, TV, and sports.
One of the groups trying to crack down on so-called "fully loaded" boxes is Dutch anti-piracy group BREIN. The organization has threatened legal action against several local suppliers and has had one case referred to the European Court. However, a decision in a separate case last week could have big implications for "fully loaded" box supply across Europe, BREIN says.
The case, which involved Dutch blog GeenStijl.nl and Playboy, resulted in an important ruling from the European Court of Justice.
The Court found that when "hyperlinks are posted for profit, it may be expected that the person who posted such a link should carry out the checks necessary to ensure that the work concerned is not illegally published." In other words, posting links to infringing content in a commercial environment amounts to a communication to the public, and is therefore illegal.
For groups like BREIN, the ruling opens up new avenues for anti-piracy action. For sellers of piracy-capable boxes and related IPTV subscriptions across the EU, trouble could lie in wait.
"Copyright protection organization BREIN holds suppliers of IPTV devices responsible for verifying whether their sources for internet TV channels are legal or not. In general, this is not the case," BREIN said in a statement this week.
"Suppliers advertise that when buying their service you do not have to pay separately for pay-channels for films, TV shows, and sports. Such a compilation costs a fraction of the total sum of subscriptions to the individual channels."
BREIN says that following the decision of the European Court of Justice last week, commercial suppliers of IPTV boxes are now obliged to verify whether the sources being linked in their devices are authorized by the content providers. If they are not, the seller could be held liable for infringement.
If BREIN's interpretation of the decision proves correct, sellers of "fully-loaded" Kodi and other IPTV boxes face a minefield of uncertainty.
There is absolutely no way vendors can check every single link contained in the software present in the boxes they sell. Furthermore, those links are often updated automatically, meaning that what is legal on the day they are sold might not be legal when the software updates tomorrow.
But while it's certainly possible that BREIN's take on the decision will prove to be correct, actually enforcing the law against hundreds or even thousands of suppliers is likely to prove impossible. Big suppliers are easily targeted though, which may send out a warning.
"BREIN has written letters to suppliers of IPTV subscriptions to warn them that they are required to verify beforehand whether the sources for the IPTV channels they use are legal. If the suppliers are not willing to do so, then BREIN will institute court proceedings," BREIN says.
However, more often that not "fully loaded" boxes are offered for sale on eBay and Amazon by regular people out to make a few bucks. Taking action against every single one is not realistic.
But even if all infringing boxes were wiped from sale, that wouldn't stop people selling blank devices. These can be easily setup by the user to stream all of the latest movies, sports and TV shows with a few clicks, rendering a smart supplier immune from liability.
And of course, anyone with VLC Media Player and the ability to Google can find plenty of dedicated IPTV streams available online, without paying anyone a penny.