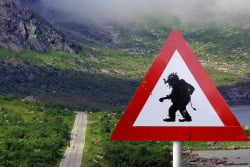 Those familiar with the copyright-trolling landscape against alleged file-sharers in the UK will be familiar with the names Golden Eye (International) and Mircom.
The companies have a track record of targeting Internet subscribers in the UK (1,2,3,4) with demands for cash settlements to make supposed (but non-existent) court cases disappear.
The companies have been quiet for years but back in February attempted to resurrect their pay-up-or-else scheme at the High Court. Neither firm was presented as copyright holders in their Norwich Pharmacal order application. Instead, they aimed to represent 16 pornographic movie company partners.
The crux of the application was that ISP Virgin Media should disclose the subscriber details behind allegedly-infringing IP addresses said to have downloaded the pornographic movies. The number of addresses isn't clear but the claim that "no more than 5000 IP addresses per fortnight" would be requested from Virgin Media (and no more than 500 letters per week would be sent to subscribers) hints at the scale.
A High Court judgment published Wednesday reveals that Virgin Media put up a considerable fight to have the order denied, which is quite a novelty considering how compliant some ISPs have been in the face of similar cases.
Douglas Campbell QC, sitting as High Court Judge, indicated that Virgin's submissions had been very useful since the points raised by the company would probably have been raised by the subscribers, had they been a party to the proceedings.
The judgment traverses a complex web of privacy and data protection matters, including those related to the GDPR. While important considerations, little of that appears to have mattered. Ultimately, it's evidence that the companies simply failed to get their acts together.
Submissions by Virgin pointed out that evidence presented by Mr Becker (Golden Eye) and Mr Hoffman (Mircom) fell short, to say the least. To begin, the IP address list (crucial for the application to proceed) hadn't been presented as evidence in the application.
"Mr Hoffmann's witness statement is dated 26th February 2018," the Judge responded.
"In paragraph 1 he explains that Mircom seeks disclosure 'of the names and addresses of the subscribers associated with the IP addresses listed in a spreadsheet attached as Exhibit 1'. But there was no Exhibit 1."
A terrible start. But there were further problems too.
"In a witness statement dated 26 June 2018, Mr Wagner [solicitor for the applicants] purported to exhibit a spreadsheet marked 'MWH1', described as a spreadsheet setting out the IP addresses of subscribers for the period 27 February to the dates shown on the spreadsheet," the Judge continued.
"This cannot be the same as Mr Hoffmann's own intended Exhibit 1 since it post-dates Mr Hoffmann's witness statement. Further this exhibit does not even set out any IP addresses, merely information including an 'infringement ID' which appears to be date-related.
"In any event even exhibit MWH1 is not what is sought. Mircom actually seeks the names and addresses of a spreadsheet which was sent to Virgin by email on 7 June 2019. This spreadsheet is not in evidence, nor is there any explanation of how it was produced."
Claims by Golden Eye and Mircom that these were just "technical" issues were dismissed by the Judge, who explained the errors and omissions as "fundamental".
Evidence provided by the applicants' supposed "experts" was lacking too. Mircom relied on an expert technical report by a Dr Sarre which supported the claimed effectiveness of infringement tracking software called "FileWatchBT. That report was reportedly "commissioned by telephone" on April 1, 2010.
"I do not accept that I should simply assume that a 9 year old expert report remains up to date, particularly one given in the field of computer software," the Judge commented, noting that the report also lacked the required "statement of truth" to comply with civil procedure rules.
There were also problems with Fieser's statement, not least the claim that the software was used to identify the infringements in Exhibit 1, which of course wasn't presented in evidence.
According to the Judge, the evidence relied upon by Golden Eye, provided by a Mr Paige, was somehow "even worse". It certainly reads that way.
"There is no statement of truth; no clarity as to what his instructions were; his evidence refers to static IP addresses, not dynamic ones; and his evidence appears to relate to a software program called 'Observer'," the Judge complained.
"Yet Mr Fieser gave a statement (also unsupported by a Statement of Truth) dated 1st December 2017 in which he seemed to think the software mentioned in Mr Paige's report was called 'International IP Tracker'.
"Virgin also drew my attention (without comment by the Applicants) to evidence from Ms Griffin, Senior Legal Counsel of Virgin, suggesting that Mr Paige was a former detective who was arrested and dismissed after receiving a controlled substance."
In response to these shortcomings, Golden Eye and Mircom requested permission to replace their 'expert' evidence. Douglas Campbell QC denied the request, noting that the defects were "fundamental".
At this point it's clear that the application for disclosure was already in disarray but the Judge still took time to address other points that will be of interest to readers, not least the claim by Virgin Media that the applicants were part of a "money-making scheme" or "shakedown".
The Judge said that in order to satisfy himself that the application was genuine, he'd need to know more about how IP addresses (obtained by Golden Eye and Mircom as a result of their earlier claims) had actually been used.
It transpires that following an earlier application, Mircom wrote to 749 people demanding settlement. Just 76 admitted fault, 15 settled without admitting liability, and zero cases were taken to court. That raised questions about what happened to the tens of thousands of subscribers identified following previous orders and what their responses had been.
"This is not something which the Applicants' current evidence addresses, nor is it information which they have offered to supply, hence this is a further reason why I refuse the applications sought," the Judge added.
The full judgment is available here.