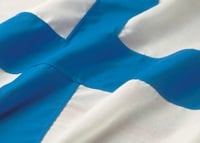 Trying to persuade the public to consume content online legally is a battle that's been waged by the entertainment industries for close to 20 years.
The advent of high-quality legal offers has made that task much easier in recent times but piracy levels continue to cause problems in many countries around the world. In Finland, however, the trend appears to be a downwards one.
An annual survey carried out by market research company Taloustutkimus Oy reveals that the majority of citizens are against piracy, with 58% of the population believing it's not acceptable in any form. That figure falls just 11% when considering unauthorized downloading for personal use.
The most common form of illicit consumption was found to be streaming from illegal services, with 9% of respondents admitting that they do so. That's down from the 12% returned in a similar study carried out last year.
Interestingly, just six percent of respondents admitted to accessing unlicensed movies or TV shows from illegal online services. That's down from 7 percent in 2018.
Anti-piracy group TTVK, which published a summary of the study, says that illicit downloading has dropped overall.
"Although illegal downloads are still the most common among the youngest age group [15-24], downloading has still dropped significantly," TTVK notes.
"According to the survey, 13% of people under 25 say that unauthorized downloading of Internet-based material is acceptable for their own use, but only nine percent of the age group themselves or a member of the family report doing this.
"In 2015, the corresponding figure was 29%, so the consumption of Finnish entertainment seems to have moved more and more to legal channels as streaming services became more common."
As 'pirate' streaming services have developed, many have presented themselves with impressive Netflix-style interfaces. Popcorn Time was perhaps the most famous front-runner but now there are dozens of sites and apps that to the untrained eye are indistinguishable from legal sites.
The study found that around a third of respondents have difficulty distinguishing between legal and illegal sites. Fortunately, close to six out of ten (57%) say they can do so easily, even if the rest remain unsure.
For Finns, some clarity is available by visiting Laillisetpalvelut.fi, a portal designed to help consumers find legal resources. However, the study found that awareness is weak, with only 6% of respondents having knowledge of the resource.
In general terms, 84% of respondents regard copyright as an important issue, with just 3% believing it's completely unnecessary. TTVK will also be pleased that 83% respondents feel that that copyright organizations are necessary, with 79% feeling they "are on the right track".
"In addition, Finns are very much in agreement that creative workers should receive compensation for the work they do, depending on how much of their works are utilized," TTVK notes, referencing 91% of respondents.
The full results of the 2019 survey can be viewed here, 2018 survey here.