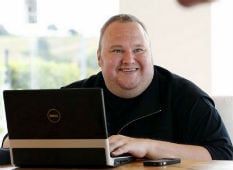 On January 20, a year after Megaupload was raided in 2012, Kim Dotcom launched his new file-storage service Mega.
In a matter of days the site's membership went from zero to more than a million and in the weeks that followed the site continued to expand its user base.
The introduction of Mega has been one of the most prominent tech launches this year and the privacy company has big plans to expand its business in the future. But despite the early successes, Kim Dotcom has chosen to move on.
Filings to the New Zealand Companies Office reveal that Dotcom was replaced as Mega Director last week. The move was confirmed to BusinessDesk by Mega CEO Vikram Kumar, who said that Mega's founder will use the time to work on his many other projects.
One of the new ventures Dotcom will focus on is the music platform formerly known as Megabox. Unlike Mega, the new music service will be operated by a company owned by the Internet entrepreneur himself.
Dotcom previously told TorrentFreak that he dropped the Megabox name for a better one, to be revealed at a later date. Dotcom did say that unlike his other projects, he will not be using the "Mega" brand for the new music service.
There are currently 22 developers working on the project and it's expected to launch a few months from now.
In addition to the music service, Dotcom also has political aspirations. A few days ago he told TorrentFreak that he has written a draft program for a new party that he wants to participate in New Zealand's elections next year.
"I'm excited about the party and I'm confident that I can help make New Zealand a significant Internet economy player. Someone needs to lead New Zealand into the future. Unfortunately the current government doesn't know what the future looks like," Dotcom said.
Aside from the music venture and his political aspirations, Dotcom will also be focusing on Megaupload's legal battles. He and several of his Megaupload colleagues are fighting an extradition request from the United States, where they are wanted for several alleged crimes.
Dotcom's extradition hearing is currently scheduled for November this year, but may be pushed to April 2014 because legal arguments on a number of issues have complicated the case. In the United States, Megaupload has asked the court to dismiss the criminal indictment against the company, but a decision on this request is yet to arrive.