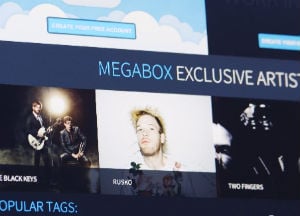 December last year Megaupload founder Kim Dotcom revealed his plan to put the "dinosaur record labels" out of business.
Not through piracy, but with the release of a revolutionary music platform called Megabox.
A month later, however, the Megabox domain was seized as part of the criminal case against Megaupload. While many thought this was the end of Dotcom's ambitious plans, the Megaupload founder announced a few months later that Megabox is not dead yet.
On the contrary, Dotcom told TorrentFreak that some of the world's top artists have already signed up.
In recent months Dotcom has been working with a team of developers to get Megabox ready for a highly anticipated launch later this year. Today, Megaupload's founder gave us a look behind the scenes of Megabox and revealed some rather interesting details.
Megabox is coming
Aside from providing a sneak peek at some of the Megabox features, the video also shows a few frames where it lists "Megabox exclusive artists." The four artists that are displayed in this section are "The Black Keys," "Rusko," "Two Fingers" and "Will.i.am."
While we can't be sure that these are indeed artists that have partnered with Dotcom and Megabox, the choice to include these names seems far from random. Will.i.am previously worked on Megaupload's Mega Song for example, and the other three artists are not really the most logical choice for dummy data.
TorrentFreak asked Kim Dotcom whether the exclusive artists in the video are indeed launch partners, but Dotcom said that he can't share this information just yet. We'll have to wait a few more weeks for official confirmation.
So why would artists join Megabox in the first place?
The goal of Megabox is to give the public access to free music and compensate artists through advertising revenue. Megaupload's founder believes that this "free music" business model has the potential to decrease music piracy while giving artists proper compensation for their work.
This revenue comes from the Megakey application that users have to install. Megakey works like an ad blocker, but instead of blocking ads it replaces a small percentage with Mega's own ads. Those who prefer not to install the app have the option to buy the music instead.
"Music will be free for users who install the Megakey App. Anyone who does not like the App can just purchase the music," Dotcom told TorrentFreak previously.
Most of the revenue generated will go directly to the artists with Megabox keeping a small share. This fraction pales in comparison to the amounts held back by the major labels.
"These new solutions will allow content creators to keep 90% of all earnings and generate significant income from the untapped market of free downloads," Dotcom said.
In the weeks to come Kim Dotcom and his team are hoping to get Megabox ready for a public release, with or without "The Black Keys," "Rusko," "Two Fingers" and "Will.i.am" as exclusive artists.
In addition, Megaupload is also expected to return before the end of 2012.
Megabox Promo