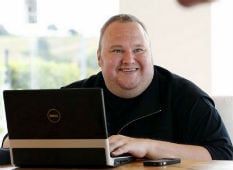 One year after the raid on Megaupload and his sprawling mansion, Kim Dotcom fought back in grand fashion by launching new file-hosting site Mega.
It was a roaring success, signing up hundreds of thousands of users in the first few hours alone. Mega, it seemed, might soon be kicking at heels of the unprecedented traction of Megaupload.
While Mega continued to grow, in July 2015 Dotcom indicated that his previously warm connections with the site may have soured.
"I'm not involved in Mega anymore. Neither in a managing nor in a shareholder capacity," he said.
Dotcom went on to claim that a then-unnamed Chinese investor (wanted in China for fraud) had used straw-men and businesses to accumulate more and more Mega shares, shares that were later seized as part of an investigation by the New Zealand government.
Mega bosses angrily denied that there had been any hostile takeover, noting that "those shareholders" who had decided not to subscribe to recent issues had "…been diluted accordingly. That has been their choice."
But a year later and the war of words between Dotcom and Mega was still simmering, with the Chinese investor now being openly named as Bill Liu.
A notorious high-roller who allegedly gambled $293m at New Zealand's SkyCity casino, Liu was soon being described by Dotcom as China's "fifth most-wanted criminal" due to a huge investigation into the businessman's dealings taking place back home.
Mega saw things a little differently, however.
"Mr Liu has a shareholding interest but has no management or board position so he certainly doesn't control Mega," the company insisted at the time.
Dotcom disagreed strongly with that assertion and this week, more than a year later, the topic has raised its head yet again.
"In a nutshell, Bill Liu has taken control of Mega by using straw men to buy shares for him, ultimately giving him the majority on the board," Dotcom informs TF.
In common with the raid on Megaupload, the Mega/Liu backstory is like something out of a Hollywood movie.
This week the NZ Herald published an amazing report detailing Liu's life since he first entered New Zealand in 2001. A section explains how he first got involved with Mega.
Tony Lentino, who was the founder of domain name registrar Instra, was also Mega's first CEO. It's reported that he later fell out with Dotcom and wanted to sell his shares in the company.
Bill Liu wanted to invest so Lentino went to meet him at his penthouse apartment on the 35th floor of the Metropolis tower in central Auckland.
Lentino later told police that Liu opened a bottle of Penfolds Grange wine during the meeting – no joke at $800 per bottle. That developed into a discussion about Liu buying Lentino's stake in Mega and a somewhat interesting trip back home for Lentino.
"You want one of my cars to take home?" Liu allegedly asked Lentino.
The basement contained a Porsche, a Bentley and a Rolls-Royce – and Lentino was invited to take his pick. He took the NZ$400,000 Rolls as part of the NZ$4.2 million share in Mega he transferred to Liu.
Well, not quite to Liu, directly at least.
"When it came time to sign the deal, the shares were to be split into two parcels: one in the name of Zhao Wu Shen, a close friend of [Liu], and a trust company," NZ Herald reports.
"It was the third transaction where Yan had been quietly buying into Mega – nothing was in his name, but he now controlled 18.8 per cent."
It is not clear how much Liu currently owns but Lentino later told police (who believed that Liu was hiding his assets) that the Chinese businessman was the "invisible CEO" of Mega.
Speaking with TF this week, Dotcom says that Liu achieved his status by holding Mega back.
"Liu used his power to prevent Mega from monetizing its traffic via advertising sales or premium account sales and by doing so he created an artificial situation in which Mega had to raise more money to survive," Dotcom says.
"He then pumped double-digit millions of dollars into the business via his straw men in order to dilute all other shareholders to almost zero."
Dotcom says that Mega could've been "instantly profitable, " but instead Liu intentionally forced the company into a loss-making situation, safe in the knowledge he could "turn on profitability at the push of a button."
Dotcom says Liu chose not to do that until he directly or indirectly owned "almost all" of the shares in Mega. That, he says, came at the expense of his family, who had invested in Mega.
"The family trust that was setup for the benefit of my children owned the majority of Mega until Bill Liu entered the stage with his unlawful actions to take control of the company," Dotcom says.
"He ran it at a loss when it could have been profitable, and then diluted other shareholders."
According to Dotcom, the people behind his family trust are now considering their options, including legal action against Liu and others.
"The trustees of the family trust are now considering legal action against all parties involved in this dilution scam in light of the new information that has become public today from other court proceedings against Bill Liu," Dotcom concludes.
It's difficult to find a more colorful character than Dotcom, but Bill Liu certainly gives Dotcom a run for his money. His story can be found here, it's almost unbelievable.