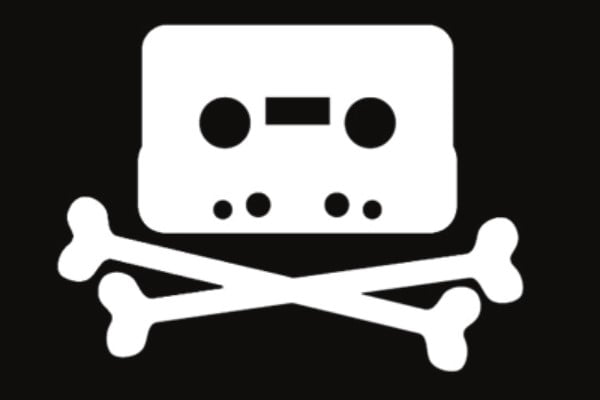 Following the example of the United States, the EU began publishing its very own piracy watchlist a few years ago.
The 'Counterfeit and Piracy Watch List' is compiled by the European Commission. As in the US, it relies on stakeholder groups to nominate several problematic sites and services for inclusion.
The third iteration of the EU watchlist, published a few days ago, provides an overview of some of the most problematic sites and services. The Commission stresses that the list doesn't "have any legal effect" and is merely based on "allegations" from stakeholders. However, being mentioned leaves a mark nonetheless.
As in previous years, the EU Piracy Watch List includes a wide range of targets, including online marketplaces that are linked to counterfeiting. For this article, however, we will mainly focus on pirate sites and services.
Progress
The EU Commission starts with some positive news. Following the 2020 report, several of the mentioned pirate sites and services have disappeared.
Bookfi.net, for example, which later operated from 3lib.net, is no longer online. This latest domain name was targeted in the recent Z-library crackdown and currently displays a U.S. Government seizure banner.
The illegal IPTV service Electrotv-sat.com is no longer operating either and the same applies to cyberlocker Wi.to, and Youtubeconverter.io. The YouTube ripper was taken offline by Google through a WIPO domain name dispute
Usual Suspects and Newcomers
The European Commission's latest Counterfeit and Piracy Watch List still includes plenty of targets, featuring many of the usual suspects. Torrent sites The Pirate Bay, Rarbg.to, Rutracker.org and 1337x.to are all mentioned, as they were two years ago.
The same is true for cyberlockers Uptobox.com and Rapidgator.net, stream rippers Y2mate.com and Savefrom.net, plus other pirate sites including Sci-Hub, Libgen and Seasonvar.ru.
The latest watch list also features several newcomers. These include YouTube downloader Snappea.com and the popular streaming portal Fmovies.to, both of which have millions of regular users.
In addition, the Commission has added more 'problematic' hosting companies that allegedly facilitate piracy, including DDoS-Guard, and piracy-supporting services such as 2embed.ru and Fembed.com.
Mega Problem
One of the newcomers that stands out is Mega, the file-hosting service originally founded by Kim Dotcom. Today, Dotcom is no longer involved with the platform and Mega itself aims to be a law-abiding company.
Unlike most pirate sites, Mega has a fully functional and transparent copyright takedown system.
During the first three-quarters of 2022, MEGA removed more than 1.7 million files, which is less than 0.001% of all files stored on the platform. Thousands of users also had their accounts suspended for repeat copyright infringements.
According to the EU report, however, a lack of upload filters and a recent Russian court decision still warrant its inclusion.
"The stakeholders report Mega for the lack of preventive measures to avoid uploads of infringing content. According to their information, in January 2022, ISPs in Russia were ordered to permanently block the site following music rightholders' actions," the Commission writes.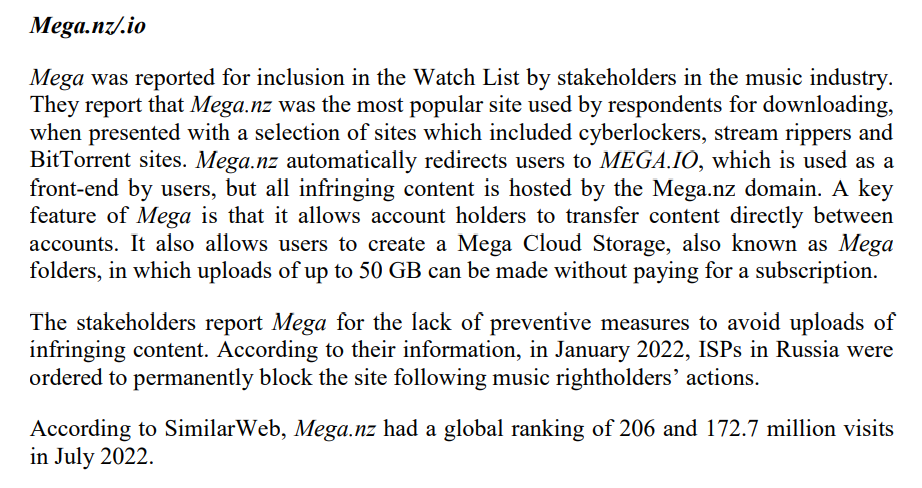 Mega Unhappy
Mega is not pleased to be highlighted among the most notorious pirate sites. Not least because the EU Commission reportedly never reached out to hear their side.
"The inclusion of Mega on the watchlist lacks legitimacy and we refute their findings," Mega's executive chairman Stephen Hall informs TorrentFreak.
"Unfortunately the Commission never contacted Mega for clarification or comment so they misunderstand Mega and misrepresent our operations. Mega had no opportunity to correct their misunderstandings."
The company doesn't believe that its service is a cyberlocker under the Commission's own definitions. In addition, Mega stresses that it takes its copyright takedown responsibilities very seriously.
Finally, Hall informs us that the Russian court decision cited in the report deserves some nuance. That order was issued without hearing Mega, and was reversed after a successful appeal.
"The claims by Universal Music were based on two public links which had immediately been disabled, consistent with Mega's published process for dealing with reported copyright claims," Hall clarifies.
Notable 'Disappearances'
We expect that Mega will keep a close eye on future submissions to make its position clear in advance. That might prevent its inclusion in the next watch list.
A similar position was experienced by Cloudflare. The Internet infrastructure company was featured in the first EU piracy watchlist in 2018 and responded with rebuttals. Since then, the company is no longer labeled a 'notorious market'.
Other sites and services have also dropped off the list. For example, the popular file-sharing service 4shared is no longer mentioned, and the same is true for the messaging app Telegram. Why these were removed is not clear.
Most sites and services understandably want to avoid a listing but being mentioned doesn't have direct consequences.
According to the EU Commission, the report mainly aims to encourage the operators and owners, as well as local governments and enforcement authorities, to take appropriate action to reduce online piracy.
—-
A copy of the European Commission's third Counterfeit and Piracy Watch List is available here (pdf). A list of all the online piracy targets and intermediaries can be found below.
Cyberlockers
– Mega.nz/.io
– Uptobox.com / Uptostream.com
– Rapidgator.net
– Uploaded.net (ul.to, uploaded.to)
– Dbree.org
Stream-Rippers
– Y2mate.com
– Savefrom.net /ssyoutube.com/sfrom.ne
– Flvto.biz and 2conv.com
– Snappea.com
Linking or referring websites
– Fmovies.to (and related domains)
– Seasonvar.ru
– Rlsbb.ru
– Rezka.ag
BitTorrent and P2P Sites
– ThePirateBay.org
– Rarbg.to
– Rutracker.org
– 1337x.to
Unlicensed download sites
– Music-Bazaar.com and Music-Bazaar.mobi
– Sci-hub.tw; sci-hub.cc; sci-hub.ac; sci-hub.bz and others
– Libgen.onl and mirror sites
Piracy Apps
– IPTV Smarters
– Ievpad.com
– Shabakaty
Hosting providers
– DDoS-Guard.net
– Private Layer
– "Amarutu", also known as Koddos
– AS-Istqservers / Istqserverses ("Istq")
– HostPalace Web Solution PVT LTD ("Host Palace")
Unlicensed IPTV services
– BIPTV.best and BestBuyIPTV.store
– King365tv.com / Theking365tv.pro
– VolkaIPTV.com
Social media
– VK.com
Piracy Supporting Services
– 2embed.ru
– Fembed.com