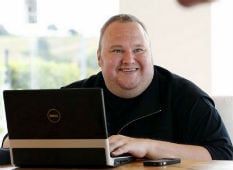 For many years Kim Dotcom was associated with a crazy lifestyle but these days he prefers to be seen more as a family man.
Regularly posting pictures of his children on Twitter and playing down his wild past, Dotcom seems unlikely to entertain a recent request from Pirate Bay founder Peter Sunde to join him on the Gumball Rally.
But while yachts and fast cars might be a thing of the past, Dotcom has certainly not lost the fire in his belly when it comes to his current predicament. As he fights off a ravenous U.S. government determined to bring him to justice by any means possible, spying included, the Megaupload founder has positioned himself as a champion of Internet privacy.
On January 19, 2013, Dotcom marked the anniversary of the raid on his empire by launching the privacy-focused cloud-storage service Mega.co.nz. Next year on the same date, the tenacious German says he will deliver again.
Thus far, details are thin on the ground, but what we do know is that Dotcom is planning a new anti-censorship network he calls MegaNet.
"How would you like a new Internet that can't be controlled, censored or destroyed by Governments or Corporations?" Dotcom teased in February.
MegaNet's precise mechanism is yet to be revealed, but Dotcom has already stated that the network will be non-IP address based and that blockchain technology will play an important role.
What we also know is that users' mobile phones will play a crucial role, although at launch other devices will participate in the network.
"All your mobile phones become an encrypted network," Dotcom notes. "You'd be surprised how much idle storage & bandwidth capacity mobile phones have. MegaNet will turn that idle capacity into a new network."
At this stage it appears that Dotcom envisions a totally decentralized system, an essential quality if he is to deliver on his claims of absolute privacy.
With the earlier promise that participants in MegaNet "become the MegaNet", Dotcom's announcement this morning that the project will seek monetary contributions from the masses seems entirely fitting.
"MegaNet details will be revealed and equity will be available via crowd funding on 20 Jan 2016, the fourth anniversary of the raid [on Dotcom and Megupload]," Dotcom confirmed.
And for now, that is all. Dotcom has become somewhat of an expert at dripping small details to the masses as and when he sees fit while allowing the media to fill in the blanks. It's a somewhat effective strategy which provides millions in free advertising for close to zero marketing outlay.
The big question now is how much equity MegaNet will need to get off the ground and how many of Dotcom's supporters will believe that privacy is a commodity worth supporting with their wallets. People were happy to support Peter Sunde's Heml.is on the same premise, but as recently revealed the amount of cash required to compete can be considerable.
However, Dotcom probably won't attempt this entirely on his own. Given his history there's a significant chance that the entrepreneur will pull in heavyweights such as Julian Assange and Glenn Greenwald to support the campaign. That will definitely help to boost the coffers.
Update: Kim Dotcom has sent TorrentFreak additional details on how MegaNet will operate.
"MegaNet has a unique file crystallization and recreation protocol utilizing the blockchain. You can load entire websites with this new technology and it makes them immune to almost all hacker attacks and ddos," Dotcom informs TF.
"In the beginning MegaNet will still utilize the current Internet as a dumb pipe but in 10 years it will run exclusively on smartphones with hopefully over 500 million users carrying the network.
"A network by the people for the people. Not controlled by any government or corporations. MegaNet will be a powerful tool to guard our privacy and freedoms and it will also be my legacy," Dotcom concludes.
On the finance front, MegaNet will partner with Bnktothefuture.com and Max Keiser to raise capital.