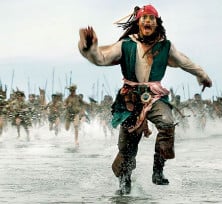 In common with all countries heavily involved with the distribution of U.S.-sourced entertainment products, Australia us under continuous pressure to do something about the online piracy phenomenon.
Much of the negotiations have Attorney-General George Brandis at their core, with the Senator regularly being accused of lacking transparency.
This week Aussie news outlet Crikey obtained (subscription) a leaked copy of a discussion paper in which Brandis and Communications Minister Malcolm Turnbull seek industry feedback on new anti-piracy proposals.
The discussion paper
Dated July 2014, the paper begins by outlining the Government's perception of the piracy threat, noting that all players – from content creators to ISPs and consumers – have a role to play in reducing the illegal consumption of content.
It continues with details of schemes operating in the United States (Six-Strikes), UK (VCAP) and New Zealand which aim to develop consumer attitudes through education and mitigation. Inevitably, however, the paper turns to legislation, specifically what can be tweaked in order to give movie studios and record labels the tools they need to reduce infringement
ISP liability
The 2012 High Court ruling in the iiNet case signaled the end of movie and TV studio litigation against service providers. With their dream of holding ISPs responsible for the actions of their pirating users in tatters, copyright holders would need new tools to pursue their aims. It's clear that Brandis now wants to provide those via a change in the law.
"The Government believes that even when an ISP does not have a direct power to prevent a person from doing a particular infringing act, there still may be reasonable steps that can be taken by the ISP to discourage or reduce online copyright infringement," the paper reads.
"Extending authorization liability is essential to ensuring the existence of an effective legal framework that encourages industry cooperation and functions as originally intended, and is consistent with Australia's international obligations."
Proposal 1 – Extending liability
"The Government is looking to industry to reach agreement on appropriate industry schemes or commercial arrangements on what would constitute 'reasonable steps' to be taken by ISPs," the paper notes.
Website blocking
Given several signals on the topic earlier this year, it comes as no surprise that website blocking is under serious consideration. The paper outlines blocking mechanisms in Europe, particularly the UK and Ireland, which allow for court injunctions to be issued against ISPs.
Proposal 2 – Website blocking
The Irish model, which has already blocked sites including The Pirate Bay and KickassTorrents, is of special interest to the Australian Government, since proving that an ISP had knowledge of infringing conduct is not required to obtain an injunction.
"A similar provision in Australian law could enable rights holders to take action to block access to a website offering infringing material, without the need to establish that a particular ISP authorized an infringement," the paper notes, adding that such provisions would only apply to websites outside Aussie jurisdiction.
It's likely that most copyright holders will be largely in favor of the Government's proposals on the points detailed above, but whether ISPs will share their enthusiasm remains to be seen.
Stakeholders are expected to return their submissions by Monday 25th August.