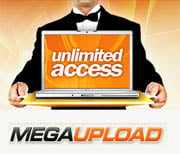 It's been almost six months since Megaupload's servers were raided and seized by U.S. authorities, a long time if you have valuable data stored on the companies now-frozen infrastructure.
That's the predicament sports reporter Kyle Goodwin found himself in after he chose Megaupload as the company to host his videos. Ever since he's been campaigning for the return of his files with the invaluable help of the EFF. Together they filed a motion demanding a workable solution to enable him, and other users, to regain access to their data.
Today the EFF appeared in the U.S. District Court for the Eastern District of Virginia to continue the fight, in the face of what they describe as a government failure to assist Goodwin and other lawful Megaupload users to retrieve their property.
According to Bloomberg, during the hearing prosecutors argued that users such as Goodwin should be treated as "unsecured creditors" who should file civil actions against either Megaupload itself or Carpathia Hosting, the company where Megaupload housed its rented servers and where the data remains in limbo.
In Court, Assistant U.S. Attorney Andrew Peterson described Megaupload as a service provider as opposed to an entity that holds people's property. "A file-copying service is what Megaupload provided," he said.
In response, Judge O'Grady noted that Goodwin wasn't asking for a service to be restored, but his videos back. "He's asking for his data back, and that's property, right?" he said.
O'Grady did not make a decision on return of the data today, but indicated that one will come soon.
"We'll look at it a little further and issue an order shortly," he concluded at the end of the hearing.
According to PC World, during the hearing O'Grady rejected a request from Megaupload's lawyers to challenge the Department of Justice's seizure of Megaupload assets, describing the request as "premature" while noting he's still considering their motion to dismiss.