The Kodi media player software, previously known as XBMC, has seen a massive surge in popularity in recent years.
More and more people have started to use Kodi as their main source of entertainment, often with help from unofficial add-ons that allow them to access pirated movies and TV-shows.
While there has been plenty of anecdotal evidence on how prevalent its use is, there hasn't been much research to back this up. A new report published by broadband management company Sandvine today, aims to fill this gap.
Sandvine analyzed a dataset from multiple North America tier one fixed-line provider, which covers over 250,000 anonymized households throughout North America. Using this data, it was able to estimate how many households actively use at least one Kodi device.
"The Kodi application itself does not generate much data, but it is easy to detect within a household due to its 'heartbeat' traffic which can easily be identified," Sandvine reports.
Overall Sandvine estimates that 8.8% of the households with Internet access across North America have an active Kodi device. This translates to several millions of households and many more potential users.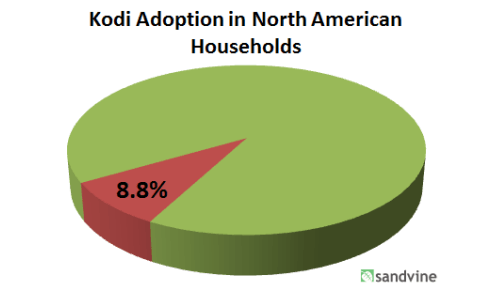 Of course, this doesn't mean that all these people are pirates. Kodi has plenty of legal uses, and so Sandvine also looked at the use of pirate add-ons specifically.
Looking at the various traffic sources for the streaming data, including file-hosts, the company determined that 68.6% of the households with Kodi devices also use unofficial, or "pirate" add-ons.
The report was in part triggered by an increased interest from content service providers, copyright owners, and regulators. Some of these pointed to the Kodi software as the root of the piracy problem, but Sandvine laudably rejects this claim.
"In some of the discussion Sandvine has had with the parties listed above, Kodi is often referred to by name as the root of the streaming of unlicensed content problem, but that is wrong," Sandvine notes.
"Kodi simply serves as a front end; If Kodi disappeared tomorrow, then all of the content made available through the unofficial Add-ons would quickly be made be accessible via a web browser, or by another media player, and the parties that are benefitting today, would continue to profit," they add.
Sandvine should receive praise for making such a clear distinction, something the media often fails to do, which is cause for great frustration among the Kodi developers.
Finally, the company notes that there are clear geographical differences in Kodi adoption within North America. In Canada, for example, over 10% of the households have a Kodi device installed, which is a higher adoption rate than in the US.
It will be interesting to see how these trends develop during the years to come. For now, Kodi continues to draw more and more users, so it wouldn't be a big surprise if the numbers further increase.