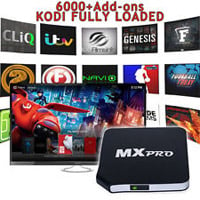 Starting in the early part of the last decade, large numbers of technically-minded individuals began selling piracy-configured set-top boxes to the public.
Unlike many of their cohorts running torrent and streaming websites, many pirate box sellers conducted business in person and in broad daylight. With few measures in place to reduce the chances of arrest, the most brazen were always likely to be the most vulnerable.
So-called 'fully-loaded' Android boxes were openly sold on eBay, Amazon, and other online platforms, while local markets, car boot sales, and dedicated retail units offered a same-day service. By mid-2015 it was common knowledge that the UK's Police Intellectual Property Unit, Trading Standards, and Sky were teaming up to take sellers down yet a surprising number of sellers carried on regardless.
New Marketing Strategy Changed Nothing
AndroidSticks Ltd was incorporated in November 2013, with sole director Halton Powell describing his occupation as 'Electronic Technician'. Almost immediately Powell was tackling his first intellectual property-related problem and in August 2014, AndroidSticks Ltd was sensibly renamed DroidSticks Ltd instead.
The name change meant that Powell's shop in London needed a new sign but online sales continued to grow, on eBay especially. In the summer of 2015, businesses operating in the same growing niche as DroidSticks were raided by PIPCU and Trading Standards. This prompted a marketing review at DroidSticks.
After deciding against closure, DroidSticks sent out a message on Twitter, hoping it would take the heat off the company. Piracy discussion would be banned in future, unless it took place elsewhere else. Xbmckodiaddons.com was specifically mentioned as a completely independent forum when DroidSticks advertised its June 2015 launch on Twitter. It was too little, and already too late.
eBay Reported DroidSticks' Sales
Concerned by the number of pre-configured pirate boxes being sold on its platform, eBay had already drawn investigators' attention to a seller account operated by DroidSticks. An investigation was launched in March 2015 and a month later, an undercover Sky investigator purchased a device from a shop owned by Powell in Chingford, Essex.
DroidSticks boxes were sold with Kodi software pre-installed, which in itself is entirely legal. However, they also contained the 'Droidsticks Wizard', a configuration tool that installed add-ons enabling access to pirated streams of premium TV channels, including those owned by Sky.
Meanwhile, BestforKodi.com – a site that DroidSticks promoted but denied any connection to – offered all the best tips and tricks while heavily promoting DroidSticks products.
Powell Was Raided in June 2016
A Crown Prosecution Report published on November 11, 2022, reveals that police searches in June 2016 uncovered 1,300 devices in a lock-up storage unit and 121 devices in Powell's shop. PIPCI says that when Powell was interviewed, he answered "no comment" to all questions. That can be seen as a strategy to avoid self-incrimination but evidence elsewhere was not in short supply.
When police reviewed Powell's bank account it revealed that sales of 24,515 devices on eBay had generated £2,344,949. When Sky presented its assessment of losses due to Powell's activities, the broadcaster pointed to potential losses of £13,826,460. When DroidSticks decided not to shut down and switched piracy discussions to the private forum instead, that was seen as a move to continue the fraud against Sky.
Guilty Plea and a 30-Month Prison Sentence
On November 11, 2022, at Southwark Crown Court, Powell (44) pleaded guilty to supplying articles for use in a fraud.
According to the Crown Prosecution Service (CPS), he was sentenced to two years and four-and-a-half months imprisonment. PIPCI says he received a slightly longer sentence of two years and six months but both agree that Powell knew exactly what he was doing.
"Powell attempted to hide the illegitimate nature of his business by concealing evidence that he was selling products pre-configured to stream Sky Sports and Sky Cinema. However, PIPCU officers were able to prove he was aware the set-top boxes were being used for this purpose by thousands of customers," says Detective Sergeant Peter Gartland from PIPCU.
CPS Specialist Prosecutor Sarah Place says that Powell was "ruthless in exploiting new emerging technology and software" and that he later helped customers to commit fraud with devices he'd configured for exactly that purpose.
"He was devious in his subsequent efforts in providing instructions to customers to show how to set up the boxes and to provide answers to questions about this fraudulent activity," Place says.
Sky Welcomes Sentence, CPS Goes After The Money
Thanking PIPCU for their work, Matt Hibbert, Sky's Director of Anti-Piracy, says the length of Powell's sentence shows that fraud is a significant crime, especially at this scale.
"The financial sums involved and the length of the sentence handed down today underline the seriousness of this type of criminality. We'll continue to work with law enforcement and our industry partners to protect consumers and take action against those organizations intent on stealing our content," Hibbert says.
Whether or not assets relating to Powell's crimes still exist is unclear but the Crown Prosecution Service says it will commence proceedings for confiscation orders against any available assets.