In recent years US colleges and universities have undertaken drastic measures to reduce piracy, but none comes close to the "copyright awareness" campaign one of the top medical schools is currently running.
The University of California (UCSF) is alerting students and staff to the risks of online file-sharing and has lost all touch with reality in the process.
"Downloading content without paying for it is stealing. It's no different than walking into a store, grabbing a movie and leaving without paying for it. The practice is stealing," the campaign website reads, pointing people to an informational video and a newly launched poster campaign.
The posters, prominently featured in the UCSF shuttle buses and elsewhere at the university complex, stand out by making a quite unusual claim. Showing a $50,000 box office ticket, it warns that piracy "directly affects the funding for research, education and patient care."
In other words, when you're sharing copyrighted material without permission patient care deteriorates, while research and education funding dwindles.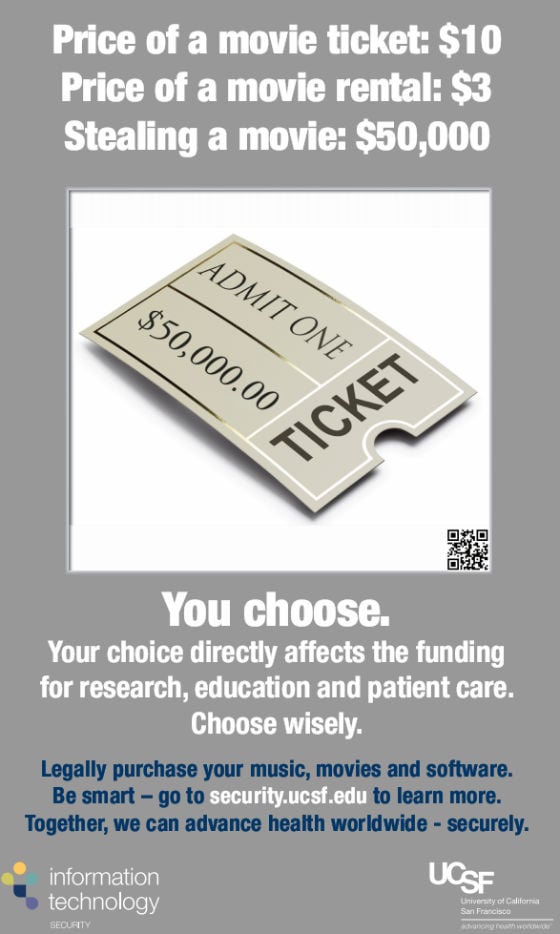 UCSF provides no evidence or rationale for the absurd claim. To the best of our knowledge there is no direct link between piracy and any of the examples given.
The other educational campaign materials do, however, point out that the university is liable for the piracy habits of students and staff. While this isn't directly true, since UCSF has safe harbor protections, this may be what the campaign is hinting at.
The Electronic Frontier Foundation (EFF) agrees that the messaging used is inaccurate and misleading, to say the least.
"It's disappointing to see one of the most respected medical schools in the country is distributing misleading, inaccurate propaganda from the entertainment industry," EFF staff attorney Mitch Stoltz tells TorrentFreak.
"Saying that copyright infringement 'directly affects the funding for research,education and patient care' is an extraordinary claim that requires extraordinary evidence – evidence that UCSF's IT department does not have," he adds.
Unfortunately, the misinformation and threats don't stop there. In an anti-piracy campaign video on the effects of unauthorized file-sharing, several UCSF employees spread more FUD.
Bill Chartier, a UCSF desktop support technician, highlights some disastrous legal consequences and notes that he will completely wipe the computers of pirates who get caught.
"You can get fined, you can get sued by huge record companies, they have a lot of lawyers. You can get put in jail, and the university is also liable for whatever you do on your university computer."
"If you're a UC employee using a UC computer to do that I come and take your computer and wipe it completely, and get all the copywritten (sic) stuff off it," Chartier adds.
Chartier's threats are accompanied by a comment from the campaign manager, who suggests that using BitTorrent is considered a crime, ignoring the many legal uses.
"If you […] use BitTorrent and you're downloading music, you're downloading movies, you're downloading software for your personal use and you're not paying for it, that's considered pirating and that's also considered a crime," Hooman Moayyed, UCSF's Security Awareness Program Manager says.
The EFF is baffled by this comment and suggests that the people behind the anti-piracy campaign are the ones who need to be educated.
"I guess no one told researchers at the National Institutes of Health, who use BitTorrent to share large biomedical data sets. I suspect students and faculty at UCSF could teach their IT department a few lessons about academic honesty."
It's unclear why the university is using these extremely misleading and inaccurate messages in their awareness campaign. While universities in the U.S. are required by law to deter piracy, they also have a moral obligation to do this truthfully.
We did notice that former Paramount Pictures CEO Sherry Lansing is on the UC board of regents. But that must be just a coincidence.
TorrentFreak contacted UCSF for a comment but we received no response.