Last month a leaked document from the MPAA exposed Hollywood's global anti-piracy priorities for the coming years.
The leak revealed where the movie studios would focus their efforts, with file-hosting and streaming sites among the top targets.
The same data breach also included a more in-depth overview of the anti-piracy plans which were previously unreported. This new leak comes from an email the MPAA sent to the movie studio's top executives October last year and provides additional background.
One of MPAA's main anti-piracy priorities are file-hosting services, often referred to as cyberlockers. As part of the strategy to deal with this threat the movie studios plan to sue the site's hosting providers.
The two items below reveal Dutch hosting provider LeaseWeb is named as one of the possible targets. The MPAA also leaves the option open to go after "recalcitrant" hosters in the United States, if these choose not to cooperate.
– Litigation against a significant hosting provider in the Netherlands (e.g., Leaseweb).
– Outreach to hosting providers in the US, where sufficient legal precedent exists (potentially to be followed by litigation against recalcitrant US hosting providers).

In a specific section describing its strategy towards hosting services the MPAA also notes that it will put a "political spotlight and pressure" on hosting providers who make a lot of revenue from pirate sites.
In addition the MPAA plans to make criminal referrals against hosting companies, accusing them of money laundering and conspiracy to commit copyright infringement.
Interestingly, it's unclear whether the criminal route will be successful as the document mentions that the U.S. Government may be reluctant to take these on "given difficulty with Megaupload case."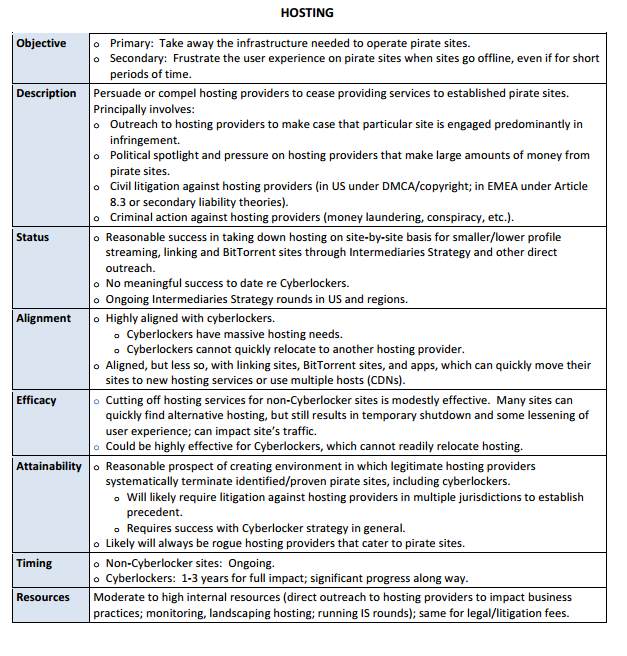 LeaseWeb is surprised to learn that they are referenced in these MPAA documents. According to the company's Senior Regulatory Counsel Alex de Joode there is no reason why they should be considered a target.
"There is no basis or ground for the MPAA to target any LeaseWeb company as part of its anti-piracy strategy," De Joode tells TF.
"LeaseWeb companies that provide services to third parties have stringent policies to which cloud storage providers and video streaming sites must adhere, and which ensure rights holders can enforce their rights effectively. All LeaseWeb companies also have efficient abuse notification procedures in place, and act quickly upon takedown requests," he adds.
LeaseWeb operates various companies, also in the United States, but the MPAA's plan suggests that a possible lawsuit would take place in the Netherlands.
Thus far, however, LeaseWeb hasn't seen any signs of or reasons for a potential lawsuit. In fact, they maintain a good relationship with the local Hollywood-backed anti-piracy group BREIN with which they have regular meetings in the Netherlands.
"Neither BREIN nor the MPAA has informed any LeaseWeb company that the MPAA may consider any of the LeaseWeb companies a target as part of its anti-piracy strategy or why such may be the case. The only reason that we can think of for 'LeaseWeb' to be on the list is that we are a big brand and big player in the hosting business, and as a group of companies have a vast and fast network."
LeaseWeb is indeed a major player in the hosting business. It previously provided hundreds of servers to the now defunct Megaupload, and still serves many streaming sites and file-hosting services.
TF asked MPAA for a comment on their plans, but we have yet to receive a response.
For now, no lawsuits against hosting providers have been filed by the MPAA. Whether or not this will happen depends in part on the level of funding the major movie studios are willing to contribute to the laid out anti-piracy proposals.