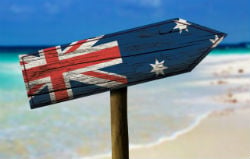 Section 115a of Australia's Copyright Act allows copyright holders to apply for injunctions to force ISPs to prevent subscribers from accessing 'pirate' sites.
The legislation has been used on many occasions, mainly by movie industry players, to have "overseas locations" (aka 'pirate' sites) blocked by local Internet service providers.
Last year it was significantly upgraded to tackle mirrors and proxies more effectively, restrict the appearance of blocked sites in Google search, and introduce the possibility of blocking 'dual-use' cyberlocker-type sites.
The idea is that making such sites more difficult to access will cause pirates to spend more on legitimate content. While clear evidence of that rarely figures in industry statements in favor of blocking, it is abundantly clear that such restriction is viewed as a valuable anti-piracy tool.
In December, Australia's Federal Court issued an injunction in favor of Village Roadshow, Disney, Twentieth Century Fox, Paramount, Columbia, Universal, and Warner, requiring local ISPs to block 181 pirate domains linked to 78 'sites', including several dedicated to subtitles.
Soon after, it now transpires, the same companies (plus Australian distributor Madman) were back again with a new application to block 79 "online locations" associated with 99 domains. A full list, as obtained by ComputerWorld, which first reported the news, is detailed at the end of this article.
Should the injunction be granted (and there's no indication there will be any objections based on the sites and their modus operandi) Telstra, Optus, Vocus, TPG, Vodafone, plus their subsidiaries, will be required to prevent their subscribers from accessing the platforms.
After targeting KickassTorrents and various mirrors and proxies for blocking back in 2016, Australian music companies have also filed a new injunction application with the Federal Court.
Music Rights Australia, backed by the Australasian Performing Right Association (APRA), Sony Music, Universal Music, and Warner Music, are requesting a block of several stream-ripping services. The list of sites is not yet publicly available. (Update: CW has obtained the list, it's detailed at the bottom of this article)
These platforms, which are often web-based affairs, allow users to 'rip' (download) music from streaming sites such as YouTube, in order to store tracks on their own machines. This practice is considered copyright infringement by the labels and one of the main threats to their business models.
"These no fault injunctions are used to block the worst of the illegal sites which undermine the local and international music industry," a spokesperson from Music Rights Australia told Computerworld.
"We use this effective and efficient no fault remedy to block the illegal sites which undermine the many licensed online services which give music fans the music they love where, when and how they want to hear it."
This first-of-its-kind action in Australia against overseas-based stream-ripping services is perhaps inevitable given the attention these platforms are attracting in other regions.
In July 2018, following legal action carried out by Rights Alliance on behalf of music industry group IFPI, Convert2MP3 was declared unlawful by a Danish court, with local ISPs ordered to block the platform.
While this was the first time anywhere in the world that a so-called stream-ripping site had been declared illegal, the music industry has successfully targeted similar platforms in the past.
Back in 2016, YouTube-MP3, at the time the world's largest YouTube-ripping site, was sued in the United States by IFPI, RIAA, and BPI. However, that ended in a settlement agreement rather than a full trial, so the case was never decided on the merits.
More recently, a case filed in Germany by Sony Music against MusicMonster.fm ended with a declaration that the service cannot rely on the private copying exception so is both unlicensed and illegal. Nevertheless, the site is still available today.
Meanwhile, major labels including Universal, Warner Bros, and Sony, are embroiled in legal action in the US against Russia-based stream-ripping sites FLVTO.biz and 2conv.com. The operator of those sites has already indicated a desire to fight back.
The list of domains in the Australian movie studio application, via CW, is as follows:
01torrent.net
1movies.nl
1movies.biz
1movies.pl
1movies.ch
1movies.is
300mbfilms.co
9putlocker.io
afdah.info
afdah.to
arawatch.video
cafehulu.com
cartoonson.tv
cartoonsons.com
dafreetv.net
tvdafree.com
filmlinks4u.is
gamatotv.co
gamatotv.me
gostream.site
greekmovies.com
iomovies.to
kat.tv
monova.to
2movierulz.com
movierulz.ht
movierulz.gd
movierulz.pl
movierulzfree.me
moviewatcher.is
moviewatcher.io
o2tvseries.com
onlinemoviewatch.org
onlinemoviewatch.to
openloadmovies.net
otorrents.com
putlocker0.com
putlockerr.is
putlockers.co
putlockers.movie
putlockers.net
putlockers.tf
putlockers.id
putlockers.tv
putlockertv.ac
putlockerstv.se
putlockertv.ist
putlockertv.to
rainierland.is
scr.cr
seehd.pl
series9.io
solarmoviex.to
speed.cd
seriestop.online
srstop.online
streamlord.com
swatchseries.to
tamilyogi.nu
tamilyogi.fm
tamilyogi.cc
toonova.net
toptvshows.co
torrenting.com
tt.smallfoot.me
torrentking.eu
torrentking.to
torrentking.site
torrentleech.org
torrentwal.net
torrentyeah.com
twomovies.name
uwatchfree.online
uwatchfree.se
uwatchfree.tv
watchcartoonsonline.la
vtv16.com
watchonline.red
woohay.com
xpau.se
yify.is
yifyhdtorrent.com
ymovies.tv
anime1.com
animedao.com
Animeheaven.eu
animehub.ac
animeland.us
animeland.cc
animepahe.com
animerush.tv
chia-anime.tv
dubbedanime.net
horriblesubs.info
hotanime.me
justdubs.org
justdubsanime.net
kickassanime.io
nwanime.tv
toonget.net
The list of domains in the Australian music companies' application, via CW, is detailed below. It dovetails perfectly with platforms already subject to legal action or blocking in other regions, as detailed in the above article.
2conv.com
Flv2mp3.by
Flv2mp3.com
Flv2mp3.org
Convert2mp3.net
Flvto.biz
Flvto.com