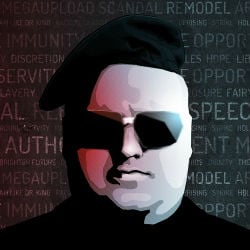 With 50 million visitors per day at its peak, Megaupload was one of the largest websites on the Internet.
This abruptly ended January this year when the U.S. Government took down the file-hosting service and had several key employees arrested including founder Kim Dotcom.
Despite ongoing criminal proceedings Dotcom and his team are determined to launch a new Megaupload, which will simply be called "Mega".
Initially the new Mega was expected to launch in 2012, but according to the latest information the launch is now scheduled for January 19 2013, exactly one year after Megaupload was shut down.
"The new Mega will launch exactly 1 year after the raid," Dotcom announced a few hours ago, adding that there's a Doomsday launch button in place, a reference to the device U.S. authorities claimed could have been in place to self-destruct the old Megaupload in the event of a raid.
Previously Dotcom said that the coding work for the new Megaupload was nearly finished and that the servers had been ordered. Investors are lining up to join the new venture that Dotcom has described as a "massive global network."
"All non-US hosters will be able to connect servers & bandwidth," he explained.
According to Dotcom we can expect a Mega with an even greater range of applications than just file-sharing. Developers of file managers are being encouraged to get in touch for early API access, and Dotcom is also calling out to those involved in email and fax tools, VOIP and video apps.
For users the new Mega will also mean more security. Uploaded files will be encrypted using the AES algorithm. Users will then be provided with a unique decryption key giving them sole responsibility for who can have future use of their files.
Former Megaupload users who expect "Mega" to give them access to their old files will be disappointed. While Megaupload is trying to convince the court to help users retrieve their old files, the new Mega is going to start from scratch.
One detail that still remains a secret is the domain name the new Mega will be operating on. Megaupload.com remains seized and is therefore unavailable.
Dotcom told TorrentFreak that he hasn't made a definite choice for a domain yet. He did register a few options this summer that would be fitting for the new service, and his other upcoming project Megabox.
Whatever the choice turns out to be, January 19 is going to be an eventful date once again.