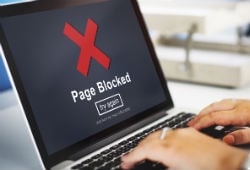 With website blockades gaining in popularity around the world, web users are finding tools and techniques which enable them to access blocked sites.
One of the easiest, consistent, and privacy conscious methods is to use a VPN, but other alternatives are available.
Holding a couple of percent of the desktop market and ten percent of mobile, Opera is a reasonably significant player in the browser market. It also has a unique trick up its sleeve. Turbo Mode is designed to speed up website browsing but is also able to unblock sites that have been hit by ISP court orders.
As a result, Opera has a cult following in places where pirate sites are blocked, such as the UK, mainland Europe, and Russia. However, this hasn't gone unnoticed by certain authorities who now want Opera to take action.
It transpires that earlier this year, Opera's owners were approached by Russian telecoms watchdog Roskomnadzor who aired concerns about the browser's ability to unblock banned sites. It was suggested that Opera should introduce some kind of filtering/blacklist mechanism to disallow blocked sites from accessing 'Turbo Mode.'
Russian publication Kommersant says that it was able to confirm the nature of the discussions with sources within Opera. And according to Roskomnadzor's Vadim Ampelonsky, a meeting took place between the parties early in the fall.
Ampelonsky says that discussion surrounded the technical issues of keeping blocked sites inaccessible when 'Turbo Mode' is activated. Representatives from Opera reportedly confirmed that this kind of filtering is possible.
"We are ready to periodically send a list of sites to enter into such a filter at the conclusion of a bilateral agreement [with Opera]," Ampelonsky says, adding that discussions continue.
It's understood that no formal agreement has yet been reached due to the sale of part of Opera's business earlier this year to Chinese company Qihoo. According to Kommersant, negotiations over the 'Turbo Mode' issue were complicated when Opera closed down its Russian office.
A source within Opera confirmed that no final deal has been done to implement a blacklist "because there is no deal with the new shareholders." However, should one be reached, it's conceivable that Opera's reputation could be on the line.
The addition of a blacklist would not only worry information advocates, but copyright holders from all over the world could also seek to add their own lists of sites, which could easily and quickly run to thousands of domains.
Earlier this year, Opera integrated a free VPN into its software. It too can bypass site blockades, but it is not currently under discussion for similar tampering.