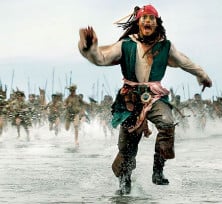 Last year BMG Rights Management and Round Hill Music sued Cox Communications, arguing that the ISP fails to terminate accounts that are frequently used to pirate content.
The case revolves around data gathered by anti-piracy outfit Rightscorp, which previously sent millions of infringement notices to Cox paired with a settlement request.
Cox chose not to forward these notices in order to protect its customers from "harassment." The copyright holders now claim that this refusal is in violation of the DMCA, and have asked the court for a summary judgment arguing that the ISP failed to terminate repeat infringers.
This week digital rights groups Electronic Frontier Foundation (EFF) and Public Knowledge (PK) joined the case as interested parties. The groups teamed up to submit an amicus curiae brief outlining the possible negative consequences for consumers.
If Rightscorp and their clients have their way, ISPs would have to terminate subscriber accounts based on unverified evidence without any judicial oversight.
"It is simply unthinkable that a person could be deprived of a basic, vital service, practically essential to contemporary societal participation, based on nothing more than unadjudicated, unverified, unreliable allegations of civil wrongdoing," EFF and PK write (pdf).
"But that is precisely what Plaintiffs seek in this case: disconnection of Internet service of 'large numbers of subscribers' based on automatically generated, robosigned claims of copyright infringement."
According to the groups the rightsholders rely on a false interpretation of the DMCA's safe harbor provision, which is detrimental to the public interest.
Not only is there no legal requirement for ISPs to terminate accounts based on allegations from copyright holders, the notices themselves are lacking as well, the groups say.
They point out that when a connection is used for copyright infringements, this doesn't necessarily mean that the person who pays the bills is responsible.
"The notices identify not the person who allegedly infringed, but rather the person paying for the Internet connection through which the infringement allegedly occurred. Besides being legally wrong, it is concerningly bad policy to attribute the acts of a third party to the Internet connection subscriber."
In addition, EFF and PK note that the infringement notices are bundled with settlement requests, which they liken to abusive debt collection practices.
The groups urge the court to keep the interests of Internet users in mind. If these notices indeed result in account terminations, many innocent subscribers may lose Internet access without any form of trial.
"Denying Cox [safe harbor] protection […] would potentially open consumers up to extortive demands, declare them guilty as 'repeat infringers' without trial or jury, and deny them access to a necessary service, perhaps innocently, perhaps without cause," EFF and PK write.
Cox also submitted several counterarguments earlier. Among other things, the ISP highlights that Rightscorp's evidence is not enough to prove copyright infringement. Additionally, Cox is not convinced that the plaintiffs are the proper rightsholder for all the works they cite.
Before moving forward, the Court still has to rule on whether EFF and PK's brief will be accepted. What's clear, however, is the case will have a strong impact on how ISPs handle copyright infringement notices in the future.