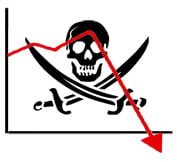 While free media has always been attractive to those traversing torrent sites, streaming platforms, and similar services, there have always been complaints that price is just one piece of the puzzle.
Often painted as cheapskates, people who pirate have historically been at the cutting edge of content availability, obtaining movies and music quickly, with legal alternatives scrambling in their wake.
Over the years, of course, both the music and movie industries have taken giant strides in bridging the gap, making lots of content available and, in the case of Netflix and Spotify, for example, often at a reasonable price. As a result, millions of citizens are taking advantage of these offers.
According to a new study commissioned by New Zealand telecoms group Vocus Group NZ and conducted in December 2018, this enhanced availability is having a positive effect.
"Legitimate streaming content providers are achieving what was impossible for Hollywood to get right: they are stamping out piracy by making available the shows people want to enjoy at reasonable cost and with maximum convenience," Vocus announced this morning.
The company believes that "piracy is dying a natural death" as more locals choose to access content legitimately, via legal services that are both accessible and easier to use than pirate options.
"In short, the reason people are moving away from piracy is that it's simply more hassle than it's worth," says Taryn Hamilton, Consumer General Manager at Vocus Group.
"The research confirms something many internet pundits have long instinctively believed to be true: piracy isn't driven by law-breakers, it's driven by people who can't easily or affordably get the content they want."
An overwhelming majority (75%) of those surveyed said that free-to-air TV services are their weapons of choice for viewing content, with 61% utilizing free on-demand channels offered by broadcasters. Around 58% of respondents said they visit the cinema, with paid streaming services such as Netflix utilized by 55%.
Of course, piracy still figures into the equation but according to Vocus, the practice is on a downward trend.
"The big findings are that whilst about half of people have pirated some content in their lives, the vast majority no longer do so because of the amount of paid streaming sites that they have access to," Hamilton added in a video interview with NZHerald.
Indeed, the company's study shows that 11% of consumers now obtain copyrighted content via illegal streaming platforms, with around 10% downloading infringing content via torrent and similar services.
"Generally the survey has said that the vast minority of people are undertaking piracy – it's just too hard. People prefer to pay for good quality, cheap, legal content, so we think that's the best way forward," Hamilton said.
While Vocus says it conducted its research to validate its view of the market and the belief that streaming services are key to dealing with piracy, the company also has other concerns. A review of New Zealand's Copyright Act is underway and Hamilton expresses a preference for dialog over legal action.
"We certainly don't want a judicial approach, where it goes in front of a court and one judge sets precedent. We think it should be debated through the copyright amendment process," he added.
In January 2018, the Motion Picture Distributors' Association, which represents the major Hollywood studios in New Zealand, said that "nothing" can be done to tackle piracy in the country other than site-blocking. Vocus, however, is opposed to this type of action.
The company believes that while the overall appetite for piracy is on the wane, its research shows that just 22% of respondents believe that it's possible to stop pirates using blocking, with the remainder thinking pirates are just too savvy.
"The simple fact for those who know anything about the internet, is that censoring the internet doesn't work," Hamilton says.
"People know there are multiple sites where it is possible to download illegal material. They also know that blocking the most popular ones simply means you'll get pirated material elsewhere."
In conclusion, Vocus insists that the solution can be found using a straightforward formula – give people the content they want, in a format they can consume, at a price they can afford.
"Piracy is finally dying. The reason for that requires an understanding of why people pirated in the first place. They didn't do it because of inherent criminality, but rather because they couldn't get the shows they wanted at a price they were prepared to pay," Hamilton concludes.