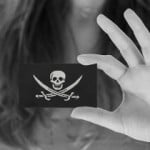 Thanks to the development of advanced file-sharing systems and fast Internet connections, lawsuits aimed at alleged Internet pirates have become commonplace over the past decade and are showing no signs of disappearing anytime soon.
The statistics behind the threats have been documented periodically but now a detailed study of IP litigation as a whole has painted a clearer picture of trends during the past 10 years.
Published by Matthew Sag, Professor of Law at Loyola University Chicago School of Law, IP Litigation in United States District Courts: 1994 to 2014 provides a review of all IP litigation in U.S. district courts over the past two decades to include copyright, patent and trademark lawsuits over 190,000 case filings.
Perhaps unsurprisingly one of the paper's key findings is that Internet file-sharing has transformed copyright litigation in the United States, in one area in particular.
"To the extent that the rate of copyright litigation has increased over the last two decades, that increase appears to be entirely attributable to lawsuits against anonymous Internet file sharers," the paper reads.
In broad terms the paper places lawsuits against alleged pirates into two categories – those with an aim of discouraging illegal file-sharing and those that exist to monetize online infringement.
Category one is dominated by lawsuits filed by the RIAA against users of software such as Kazaa and LimeWire who downloaded and shared tracks without permission. Announced in 2003, the wave seriously got underway during 2004 and persisted until 2008, straggling cases aside.
Category two is dominated by the so-called copyright trolls that have plagued file-sharing networks since 2010. These companies, largely from the adult movie sector, track down alleged file-sharers with the aim of extracting cash settlements.
As illustrated by the chart below, so-called 'John Doe' lawsuits witnessed their first big boost during 2004, the year the RIAA began its high-profile anti-P2P scare campaign. The second big wave can be seen from 2011 onwards.
"John Doe litigation in the second wave appears to be aimed primarily, if not exclusively, at monetizing infringement—i.e., creating an independent litigation revenue stream that is unrelated to compensation for the harms of infringement and unconcerned with deterrence," the paper reads.
"The availability of statutory damages is essential to the infringement monetization strategy. United States copyright law allows a plaintiff to elect statutory damages ranging from $750 to $150,000 for willful copyright infringement, regardless of the extent of the copyright owner's actual damage."
Needless to say, this situation has encouraged some companies to file more and more lawsuits over the past several years in pursuit of profit. However, they have been required to adapt along the way.
Between 2010 and 2012 lawsuits were typically filed against hundreds or even thousands of John Doe defendants at once, but due to increased scrutiny from District Court judges the average number of Does per suit has declined dramatically.
"[In] 2010 the average number of John Doe defendants per suit was over 560; by 2014 it was just over 3," the paper notes. "2014 still witnessed the occasional mass-joinder suit, but by this time the model had almost entirely shifted to suits against individual unnamed defendants."
Also under the spotlight are the types of content being targeted by trolls. Pornographic titles were behind the lion's share of lawsuits since 2010 and in 2014 accounted for 88% of all 'John Doe' actions.

What is also startling about this second category is how it has become increasingly dominated by a tiny number of plaintiffs. Back in 2010 the top three plaintiffs accounted for less than 25% of John Doe lawsuits but it wouldn't stay that way for long.
"In 2011 and 2012, the top three plaintiffs accounted for just under 50% of John Doe cases. In 2013, Malibu Media, alone accounted for 64% of John Doe cases and the top three in that year accounted for more than 75% of such cases. The top three plaintiffs in 2014 account for more than 93% of John Doe litigation filings in copyright," the paper adds.
Conclusion
Despite the large number of lawsuits being filed against John Doe defendants, the paper dismisses the notion that litigation since 2010 is a broad-based phenomenon. In fact, it draws quite the opposite conclusion, noting that a tiny number of plaintiffs are effectively making a huge noise.
"The trend from 2012 to 2014 is one of increasing concentration of plaintiff activity. In fact, the pornography producer Malibu Media is such a prolific litigant that in 2014 it was the plaintiff in over 41.5% of all copyright suits nationwide," the paper notes.
Finally, in respect of the activities of the plaintiffs listed above, Matthew Sag's study arrives at an opinion long held by many 'troll' critics.
"John Doe litigation is not a general response to Internet piracy; it is a niche entrepreneurial activity in and of itself," Sag concludes.