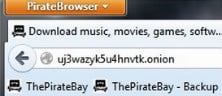 On the occasion of its 10th anniversary last Saturday, The Pirate Bay sent out a gift to its users – the PirateBrowser.
Blocked by court orders all over the world, Pirate Bay is arguably the most censored website on the Internet. The PirateBrowser software allows people to bypass these restrictions.
It appears that the browser idea is right on the money. New statistics revealed today show that blocked users have been downloading the tool en masse.
Within three days of its launch more than 100,000 people have already downloaded PirateBrowser via the direct link, and the official torrent file is being shared by more than 5,000 people at the time of publication.
While The Pirate Bay anticipated some interest it never expected PirateBrowser to generate this many downloads.
"I didn't think it would catch on so fast," The Pirate Bay's Winston tells TorrentFreak. "I guess people want to see the websites their governments and courts are trying to hide from them."
To cope with the massive demand The Pirate Bay had to upgrade the connection for the download link. Even after three days PirateBrowser is still averaging well above a thousand downloads per hour.
The browser is based on Firefox 23 bundled with a Tor client and some proxy configurations to speed up page loading. It is meant purely as a tool to circumvent censorship, but The Pirate Bay teams wants to reiterate that it doesn't provide any anonymity for its users.
"It's not providing anonymity and it's not secure to hide your identity. PirateBrowser is only supposed to circumvent censoring and website blocking. If we made the browser fully anonymous it would only slow down browsing," Winston explains.
In addition to the current Windows application, Mac and Linux versions of the PirateBrowser will be released in the near future.
The anti-censorship browser is just the first tool The Pirate Bay will release. They are currently working on a special BitTorrent-powered application, which lets users store and distribute The Pirate Bay and other websites on their own computers, making it impossible for third parties to block them.
And so the game of Whack-A-Mole continues.