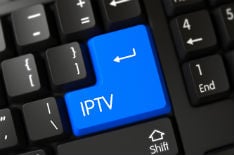 As reported early June, Spain's National Police shut down a pirate IPTV operation that allegedly serviced two million customers.
The operation was a multi-national affair, with participation from law enforcement authorities across Europe, Canada and the United States. Almost €5 million in funds plus €1.1 in bank assets were frozen. This was a big operation by most standards but it's clear that this didn't mark the end of anti-IPTV activity in Europe.
Police Hit Another Supplier and 'Hijacked' its Streams
This week, news of a particularly interesting enforcement action appeared in the UK. After arresting a 24-year-old man in the Hollesley area of East Suffolk under suspicion of involvement in a pirate IPTV operation, police hijacked the service's streams to deliver an anti-piracy message to subscribers of the service. The image below, supplied to TF by Suffolk Police, shows what customers saw.
This is the first time that police in the UK have used an IPTV service itself to deliver an anti-piracy warning and to our knowledge, this method has never been carried out in other countries either. If it had, perhaps the events we'll mention now would've attracted more attention in the media.
Another Raid, Another Arrest, High-Value Assets Seized
On Thursday, June 25, Lancashire Police executed a search warrant at a house on Buckley Grove in the seaside resort of Lytham St Annes. Carried out under the Police and Criminal Evidence Act, a 28-year-old man was arrested on suspicion of being involved in the supply of pirate IPTV services and illegal TV streaming devices.
While these cases are increasingly common, particularly in mainland Europe, it is rare for police in the UK to immediately seize high-value assets in connection with local cases. As the images below show, police walked away with a couple of pretty nice vehicles.

In addition to the Range Rover Sport SVR V8 and Audi A5 convertible shown above, police also seized designer clothing, bags and watches.
"I hope this case shows people that we will work to find those responsible for what ultimately amounts to fraud, seeing people make thousands of pounds illegally. We will also look to seize what they spend their fraudulent profits on," said DS Mark Riley from Lancashire's Economic Crime Unit.
The name of the service hasn't yet been published by the police and with insufficient evidence to back up the rumors, we won't name it here.
Two People Arrested and Charged in Northern Ireland
To the west of Lytham and across the Irish Sea, the Police Service of Northern Ireland (PSNI) has also been busy cracking down on the provision of pirate IPTV services.
Details are scarce but it transpires that following an investigation in the Mid Ulster area, Criminal Investigation Department (CID) detectives and local officers in Bellaghy, County Londonderry, uncovered what is being described as the "sale of illegal subscriptions for TV channels".
"A 34-year-old man and a 30-year-old woman have been charged with a range of offenses including making or supplying articles for use in fraud, possessing articles infringing copyright, unauthorized use of a trademark and concealing criminal property," a police spokesperson confirmed.
Again, police haven't named the service but online chatter points firmly towards an IPTV supplier that disappeared offline last month. Without direct confirmation we won't publish its name here but there are some signs that should the case go all the way to a conviction and sentencing, it could be a less than straightforward matter.
Fraud and Money Laundering Are the Common Factors
For many years people considered the operation of torrent sites and streaming platforms only from the angle of copyright law but what we are seeing with most IPTV cases are continual references to offenses under the Fraud Act (defrauding rightsholders) and Proceeds of Crime Act (money laundering).
These offenses not only attract significant custodial sentences in their own right but can also lead to those convicted being stripped of their property, if the authorities believe those assets were obtained from criminal activity.