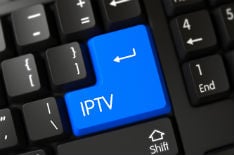 Rather than shelling out significant sums on multiple premium live TV and streaming services each month, tech-savvy UK internet users often turn to pirate IPTV services.
These platforms often provide access to almost everything that Sky, BT, and Netflix have to offer. Not only that, but they also do so at extremely low prices that tend to hover around the £10 per month mark. This seems like an exceptional deal but there are downsides too.
Perhaps most importantly they are illegal to supply and use in the UK, something that can have consequences for platform operators and viewers alike. That message is being sent again today by police in the UK following an operation carried out yesterday.
Raid on Address in Leicestershire
According to Leicestershire Police Cyber Crime Unit, officers visited an address on Monday as part of a crackdown on illegal streaming services. Two people were arrested on suspicion of infringing copyright by communicating protected works to the public.
Police say that a 33-year-old man and a 48-year-old woman were later released under investigation. Equipment relating to the unlicensed dissemination of premium TV services was seized and the service itself was shut down.
"The IPTV service, which is believed to have provided illegal access to pay TV services, has since been shut down. Officers were also able to access the online platform, disable the illegal streams and display an on-screen message to users of the service warning them against further illegal streaming," Leicestershire Police add.
Police Aren't Naming The Service
While raids on pirate IPTV services are relatively common in the UK, police tend not to name the services when arrests are made. That policy hasn't changed following yesterday's operation but a source that spoke to TF on condition of anonymity pointed us to an IPTV service that appears to have been run from an address in Oadby, Leicestershire, for some time now.
That service's subscription portal and websites appear to be still online but other details, including those of the suspects, match the details released by police thus far. The Federation Against Copyright Theft was involved in the operation but also refuses to name services in the early days following arrests.
What the Shutdown Means for Customers
The tactic of displaying on-screen messages to users of pirate IPTV services has been on the rise in recent years, with similar messages displayed following operations carried out by Norfolk and Suffolk Police and West Mercia Police.
Whether this means that police will attempt to contact customers as they have done in the past remains to be seen but it is not uncommon for IPTV subscribers to register for such services using their real names and addresses. This makes it trivial for the police to send out warning emails.
In the meantime, Leicestershire Police Cyber Crime Unit offers the following warning:
"I would like to take the opportunity to remind our communities that providing or accessing copyrighted material through illegitimate IPTV services is illegal," says Detective Constable Aaron Horn.
"We will continue to work with colleagues from organizations who provide legitimate paid-for TV services to crack down on those breaking the law."
Those 'organizations' are most likely broadcasters Sky and BT which are directly supported by the Federation Against Copyright Theft.
"We are pleased to support this action taken by Leicestershire Police, which sends a clear message not only to those facilitating this illegal activity but also to those choosing to consume content in this way," says FACT CEO Kieron Sharp.
"Providing illegal streaming services is a serious crime and consumers paying for these services should be aware that they are giving their money directly to criminals."