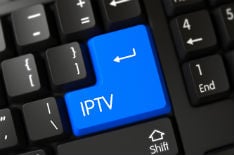 In common with their counterparts around Europe, rightsholders in France have regularly filed for injunctions to have pirate sites blocked by ISPs.
Until recently, their work has been focused on traditional torrent, streaming, and other download platforms but the rise of pirate IPTV services has now prompted an expansion.
Rightsholders Seek First-Ever IPTV Blocking Injunction
In order to stem the tide of IPTV services offering live TV and on-demand content without the necessary licensing, French anti-piracy group ALPA teamed up with Ministry of Culture agency CNC (National Cinema Center), and a number of rightsholders to file for a blocking injunction at the Court of Paris.
According to the applicants, IPTV-Teli, King365-TV, DDNC, IPTV Panel, Premium-IPTV, Prime Plus, Xtream and TVService-Pro, which are accessible via various domain gateways, allow Internet users to access live TV, catch-up services, and VOD platforms offering movies and TV shows. All are paid subscription services that access the market via a network of resellers.
To disrupt their business activities, the rightsholders represented by ALPA summoned leading ISPs including Orange, Free, SFR Fiber, and Bouygues Telecom to appear before the Court for a hearing on November 23, 2020.
The aim was to have them block access to pirate services at the following domains: iptv-teli.com, king365-tv.com, king365-tv.cf, king365tv.com, ddnc.us, platinumiptv.pro, premium-itv.com, primeplus.tv, xtream.ws, and tvservice.pro.
Court Considers Nature Of The Allegedly Infringing Services
ALPA Executive Officer Frédéric Delacroix informs TorrentFreak that the application was an action under Article L. 336-2 of the French Intellectual Property Code, which allows courts to order measures to prevent or disrupt copyright infringement taking place via an online communication service.
"There was no dispute from ISPs," Delacroix explains. "The case law in France that we have acquired is well established after more than thirty decisions concerning the blocking of nearly 340 sites corresponding to around 1,100 domain names."
The decision handed down on December 17, 2020, shows that the Court considered whether the pirate IPTV services did indeed breach the rights of the movie, TV, and broadcasting companies.
An ALPA analysis found that IPTV-Teli offered 4,827 TV channels, 4,588 movies and 271 TV series while King365-TV offered 2,847 TV channels, 1,734 movies and 360 TV series, all without the necessary permission. Similar unlicensed offerings were also found at the other suppliers listed in the application.
Delacroix informs TF that it is difficult to know precisely where the services operate from or how many users they have, since measuring IPTV consumption is more challenging than acquiring data on traditional pirate sites such as streaming, DDL and peer-to-peer portals. As a result, each found themselves targeted due to their popularity among consumers in the French market.
First Pirate IPTV Blocking Injunction Issued in France
In common with blocking applications heard elsewhere in Europe, the Court of Paris sought to balance the protection of intellectual property rights with the rights of Internet service providers and their customers, including the freedom to receive and communicate information. The Court ultimately determined that ISP blocking is warranted considering the overwhelmingly infringing nature of the IPTV services.
The blocking injunction handed down by the Court requires the ISPs to block the domains listed above plus any related sub-domains. The ISPs were ordered to implement blocking within 15 days for a period of 18 months.
All costs of blocking are to be borne by the Internet service providers and should the targeted IPTV services implement circumvention measures, the applicants will have the right to apply for additional blocking under an accelerated process.
"The immediate effect of these actions is that users haven't been able to connect to their services, generally paid in advance," Delacroix says.
"ALPA will continue these types of actions against other illegal IPTV services."
The decision of the Court of Paris can be found here (pdf)