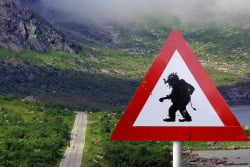 When copyright trolls scour BitTorrent swarms looking for IP addresses, they have absolutely no idea who sits behind them.
ISPs can eventually be forced to hand over the subscribers' personal details but even then there's no solid proof of who carried out the infringement, if there was one. Cases tend to get decided on the balance of probabilities, meaning that an individual in a single-occupancy household finds themselves in a much more tenuous position and under pressure to settle.
But what happens when there are multiple occupants or even multiple households with many, many potential infringers? In Denmark, it appears, the response from copyright trolls remains the same: We don't care who infringed: Pay us.
Law Firms' Reputations Destroyed
Aggressive copyright-trolling has developed into a worldwide scandal over the past 15 years, with numerous lawyers finding themselves suspended and even imprisoned for their behavior. But even now, law firms wander into the fire nonetheless, with Denmark's Njord Law just the latest example.
After accusing thousands of Danes of illegally sharing movies using BitTorrent, Scandinavian law firm Njord Law approached many for cash settlements despite their clients not holding the copyrights to the content in question. As a result, a partner in the firm and the firm itself have been charged with serious fraud offenses dating back to April 2017.
As that case develops in the background, those targeted with questionable settlement demands are stepping forward with stories that only reinforce what observers have known for some time: Something is rotten in the state of Denmark.
Copyright Trolls Target Cooperative Housing Association
The whole idea of copyright enforcement is to find the actual infringer and force them to compensate the rightsholder for their actions. For copyright trolls, however, finding the actual infringer doesn't seem as important as finding someone who will simply take responsibility and pay, even if they aren't guilty of anything.
This notion is underlined by a case reported by Berlingske (paywall), involving 37-year-old Christie Bak, who in 2019 was chairman of the board of a cooperative housing association in Copenhagen.
The association received correspondence from Njord Law, who alleged that the association's Internet connection had been used to download and share a porn film. To settle this matter the law firm wanted a payment of DKK 7,500 (around US$1,200) with the suggestion that things could get much more expensive if the matter went to court.
The association contacted the law firm, informing them that they had no idea about any porn downloads so were considering employing a lawyer to deal with the matter. This, of course, would cost the association money, something copyright trolls are only too aware of.
Balancing The Books
At this point in a copyright troll matter, both parties are led into their own set of calculations. Most law firms don't want to take cases to court since early settlements are far more lucrative and less hassle. On the other hand, they are well aware that if their target lawyers up, they might not get anything. So, at this point, many copyright trolls attempt to make it more attractive to settle and less attractive to mount a defense. This case was no different.
After the housing association indicated it could fight back, Njord Law made a counteroffer of DKK 4,000 (around US$640) to make the matter go away, an amount getting dangerously close to the cost of hiring a lawyer to send a couple of "back off" letters.
Counteroffer Made The Association Suspicious
Christie Bak informs Berlingske that the rapid reduction of the amount being demanded raised her suspicions. If Njord Law were originally prepared to go to court with the evidence they had, why were they now offering to settle for much less?
"Was it because they had a thin case? Did they think it would be nice if they could just get some money out of us? It seemed strange," she says.
Discussing the matter with members of the cooperative's board, Bak says it was made clear that if someone had been responsible for the sharing of the movie, they could just come forward and the association would've simply paid the settlement "in good conscience". In the event, no one in the entire association knew anything about the alleged infringement.
Housing Project Has Shared Internet, No Infringer Identified
Unable to identify who (if anyone) had carried out the alleged infringement, Njord Law was informed that it could've been anyone, including various holidaymakers who also had access to the association's Internet connection. This prompted the initial reduction to DKK 4,000 but that amount was rejected by the association.
In this case, knowledge was power. The association wrote back to Njord and informed the law firm that they were aware that Njord's file-sharing cases were floundering in the courts, with three cases in particular already having been rejected. They also informed Njord that the evidence of its copyright troll partners was also being questioned in the media.
"The only thing we saw was some paper with some [IP address] numbers on it. There was no letter or explanation. It also did not appear where they got the numbers from. How could we be sure that it was not something they had manipulated? There was no guarantee of authenticity on it. It was just a lot of print," Bak informs Berlingske.
Njord Law Reduces Settlement Amount Yet Again
Following this response, Njord – having previously stated the strength of its case – quickly dropped its demands to DKK 2,500 (US$400) – an amount that would be gobbled up by a lawyer in a matter of minutes, should the association choose to defend itself in a lawsuit.
In the event, the board did the calculations and took the decision to pay Njord off, a decision that Bak says she now regrets.
Journalist Freja Marquardt contacted Njord Law with a request to comment on the matter, including previous correspondence with the law firm suggesting that lawsuits aren't filed against entities offering Internet in "open access conditions".
No Comment – Legal Ethics
Njord lawyer Lars Lokdam told Marquardt that due to the company fully complying with the rules of legal ethics, it was impossible for him to talk about the case since the settlement was private. On the related matters, including not filing lawsuits against those who enter into dialogue or have widely accessible Internet, he refused to answer any questions.
What appears clear, however, is that at least in some instances (and certainly in this case), companies like Njord Law and their copyright troll partners have little interest in targeting the actual infringer. What they want is someone – anyone – to pay up and when they do, it is mission accomplished.
The big question then is whether legal ethics stretch to having innocent parties pay for the alleged crimes of others, particularly when there may not have been a legal basis to demand a settlement or bring a case in the first place.
During the course of its live criminal investigation against Njord Law, these questions and more could be answered by the State Prosecutor for Serious Economic Crime (SØIK), which currently believes the law firm defrauded Danes out of at least 7.5 million kroner (US$1.22 million).