After seizing several servers of the popular private music tracker What.cd two weeks ago, the French military police have now caught an even bigger fish, Zone-Telechargement.com.
With millions of regular visitors, Zone-Telechargement was ranked the 11th most-visited website in the entirety of France.
Telechargement is French for "download," and the site offered direct downloads of a wide variety of pirated content, including films, series, games, and music. However, yesterday afternoon the site suddenly became inaccessible.
After some confusion, the French Gendarmerie took credit on Twitter, stating that an investigation had concluded that the download portal caused rightsholders 75 million euros in losses.
Gendarmerie Nationale Tweet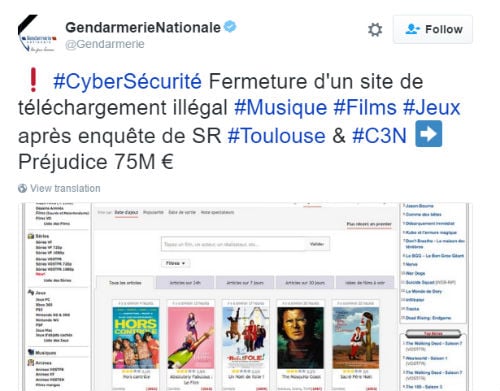 Founded in 2011, Zone-Telechargement's popularity soared after the shutdown of Megaupload, which was also hugely popular in France until its shutdown early 2012.
Interestingly, it appears that the site wasn't the only target yesterday. DL-Protect, another large direct-download site and the 19th most popular website in France according to Alexa, also went down.
While the police only mentioned one site, Zataz reports that this direct download site was targeted by the police as well. In common with the action against What.cd, French music industry group SACEM and the movie group ALPA also played a role in yesterday's actions.
SACEM informs TorrentFreak that they will issue a comment later today.
With two prominent shutdowns in one month, it's quite clear that the Gendarmerie's cybercrime division and SACEM have online piracy high on their agenda.
Update: New information just released revealed that the two direct download sites were allegedly operated by the same people.
The enforcement action is a collaboration between the French Gendarmerie and the Andorran police. Seven people were apprehended, and two still remain in custody, one in Andorra and one in France. More arrests may follow.
Zataz reports that in recent years the sites generated 10 million euros in revenue.
As part of the enforcement actions in France and Andorra, real estate, bank accounts and several cars were seized The authorities also discovered various bitcoin wallets, which they hope to get their hands on.
Update 2: The site came back this afternoon, for some, although download links don't appear to work. There might be an attempt to make a comeback.