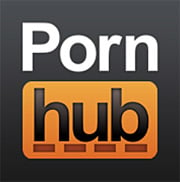 Last week, adult 'tube' site Pornhub celebrated its 10th anniversary, and what a decade it was.
Six months after its May 2007 launch, the site was getting a million visitors every day. Six months after that, traffic had exploded five-fold. Such was the site's success, by November 2008 Pornhub entered the ranks of the top 100 most-visited sites on the Internet.
As a YouTube-like platform, Pornhub traditionally relied on users to upload content to the site. Uploaders have to declare that they have the rights to do so but it's clear that amid large quantities of fully licensed material, content exists on Pornhub that is infringing copyright.
Like YouTube, however, the site says it takes its legal responsibilities seriously by removing content whenever a valid DMCA notice is received. Furthermore, it also has a Content Partner Program which allows content owners to monetize their material on the platform.
But despite these overtures, Pornhub has remained a divisive operation. While some partners happily generate revenue from the platform and use it to drive valuable traffic to their own sites, others view it as a parasite living off their hard work. Today those critics were joined by one of the biggest stars the adult industry has ever known.
After ten years as an adult performer, starring in more than 600 movies (including one that marked her as the first adult performer to appear on Blu-ray format), in 2012 Jenna Haze decided on a change of pace. No longer interested in performing, she headed to the other side of the camera as a producer and director.
"Directing is where my heart is now. It's allowed me to explore a creative side that is different from what performing has offered me," she said in a statement.
"I am very satisfied with what I was able to accomplish in 10 years of performing, and now I'm enjoying the challenges of being on the other side of the camera and running my studio."
But while Haze enjoyed success with 15 movies, it wasn't to last. The former performer eventually backed away from both directing and producing adult content. This morning she laid the blame for that on Pornhub and similar sites.
It all began with a tweet from Conan O'Brien, who belatedly wished Pornhub a happy 10th anniversary.
Happy 10th Anniversary to PornHub, a website I just now heard about. Seriously. Just now.

— Conan O'Brien (@ConanOBrien) May 30, 2017
In response to O'Brien apparently coming to the party late, a Twitter user informed him how he'd been missing out on Jenna Haze. That drew a response from Haze herself, who accused Pornhub of pirating her content.
"Please don't support sites like porn hub," she wrote. "They are a tube site that pirates content that other adult companies produce. It's like Napster!"
In a follow-up, Haze went on to accuse Pornhub of theft and blamed the site for her exit from the business.
"Well they steal my content from my company, as do many other tube sites. It's why I don't produce or direct anymore," Haze wrote.
"Maybe not all of their content is stolen, but I have definitely seen my content up there, as well as other people's content."
Of course, just like record companies can do with YouTube, there's always the option for Haze to file a DMCA notice with Pornhub to have offending content taken down. However, it's a route she claims to have taken already, but without much success.
"They take the videos down and put [them] back up. I'm not saying they don't do legitimate business as well," she said.
While Pornhub has its critics, the site does indeed do masses of legitimate business. The platform is owned by Mindgeek, whose websites receive a combined 115 million visitors per day, fueled in part by content supplied by Brazzers and Digital Playground, which Mindgeek owns. That being said, Mindgeek's position in the market has always been controversial.
Three years ago, it became evident that Mindgeek had become so powerful in the adult industry that performers (some of whom felt their content was being exploited by the company) indicated they were scared to criticize it.
Adult actress and outspoken piracy critic Tasha Reign, who also had her videos uploaded to Pornhub without her permission, revealed she was in a particularly tight spot.
"It's like we're stuck between a rock and a hard place in a way, because if I want to shoot content then I kinda have to shoot for [Mindgeek] because that's the company that books me because they own…almost…everything," Reign said.
In 2017, Mindgeek's dominance is clearly less of a problem for Haze, who is now concentrating on other things. But for those who remain in the industry, Mindgeek is a force to be reckoned with, so criticism will probably remain somewhat muted.