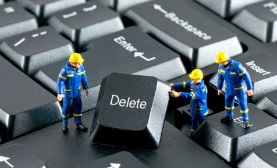 Following intense pressure on local Internet companies, particularly search giant Yandex, last year an important meeting took place at the headquarters of Russian telecom watchdog Roscomnadzor.
Held between search engines and major copyright holders, the aim was to find a solution to the online proliferation of copyrighted content. By early November consensus had been reached, with Channel One, the National Media Group, Gazprom-Media, the Internet Video Association, the Association of Film and Television Producers, Yandex, Rambler Group, Mail.Ru Group, vKontakte, and RuTube signing up to a memorandum.
The voluntary agreement, which was timetabled to run until September 30, 2019, saw the creation of a centralized database of infringing content, maintained by rightsholders. Search companies agreed to query this database every few minutes in order to obtain the URLs of 'pirate' material so that they could be removed from search results.
Since the agreement was voluntary and time-limited, it was envisioned that the terms would be written into law, before the memorandum ran out. However, there have been a few points of contention, including a requirement from rightsholders that some continuously-infringing sites should be completely delisted from results, without a court process.
These things naturally take time to work out but in this case, too much time. On Monday, as per the original timetable, the memorandum expired. According to local news outlet RBC, the necessary amendments to copyright law were not submitted to the State Duma before that day, meaning that none of the signatories are bound by the agreement.
Sources at the companies involved told the publication that the memorandum has indeed timed-out but added that an informal agreement has now been reached by the parties to continue compliance for another two weeks. An extension of the agreement until December 31, 2019 had previously been agreed but its terms were not met by September 30.
According to Leonid Levin of the State Duma Committee on Information Policy, the bill to write the terms of the memorandum into law was submitted to the State Duma in a non-finished form. There will reportedly be another meeting between the parties this week.
"As soon as we finalize the document, it will be submitted to the State Duma," Levin said. "Until then, we hope that all interested parties will continue to adhere to those provisions that were enshrined in the so-called anti-piracy memorandum, which meets all the interests of the industry."
Roscomnadzor declined to comment on the delay but the Internet Video Association said that it would be "very disappointed" if Internet companies stopped removing links to pirated content due to the memorandum expiring.
At the moment, it appears that the memorandum is surviving on goodwill but according to reports the issue is in the balance. The so-called 'repeat infringer' clause, which would see sites permanently removed from search results, is still a point of contention moving into this week's planned meeting.