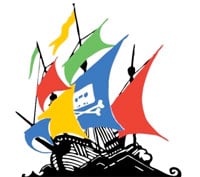 In recent years Hollywood and the music industry have taken a rather aggressive approach against Google. The entertainment industry companies believe that the search engine isn't doing enough to limit piracy, and have demanded more stringent measures.
One of the suggestions often made is to remove or demote pirate sites in search results. A lower ranking would lead fewer people to pirate sources and promoting legal sources will have a similar effect.
Google previously said it would lower the ranking of sites based on DMCA complaints, but thus far these changes have had a limited effect. A few weeks ago the company also began promoting legal options but this effort is in the testing phase for now.
The question that remains is whether these changes would indeed decrease piracy. According to new research from Carnegie Mellon University, they can.
In a paper titled "Do Search Engines Influence Media Piracy?" the researchers ran two experiments where they let participants use a custom search engine to find a movie they wanted to watch. The respondents could pick from a list of 50 titles and received a $20 prepaid virtual Visa card as compensation.
All search results were pulled from a popular search engine. In the control category the results were not manipulated, but in the "legal" and "infringing" conditions the first page only listed "legal" (e.g Amazon) and neutral (e.g IMDb) sites or "infringing" (e.g. Pirate Bay) and neutral sites respectively.
While it's quite a simple manipulation, and even though users could still find legal and pirated content in all conditions, the results are rather strong.
Of all participants who saw the standard results, 80% chose to buy the movie via a legal option. This went up to 94% if the results were mostly legal, and dropped to 57% for the group who saw mostly infringing results on the first page.
To Pirate or Not to Pirate
TorrentFreak contacted Professor Rahul Telang who says that the findings suggest that Google and other search engines have a direct effect on people's behavior, including the decision to pirate a movie.
"Prominence of legal versus infringing links in the search results seem to play a vital role in users decision to consume legal versus pirated content. In particular, demoting infringing links leads to lower rate of consumption of pirated movie content in our sample," he notes.
In a second study the researchers carried out a slightly modified version of the experiment with college students, a group that tends to pirate more frequently. The second experiment also added two new conditions where only the first three results were altered, to see if "mild" manipulations would also have an effect.
The findings show that college students indeed pirate more as only 62% went for the legal option in the control condition. This percentage went up gradually to 76% with a "mild legal" manipulation, and to 92% in the legal condition. For the infringing manipulations the percentages dropped to 48% and 39% respectively.
To Pirate or Not to Pirate, take two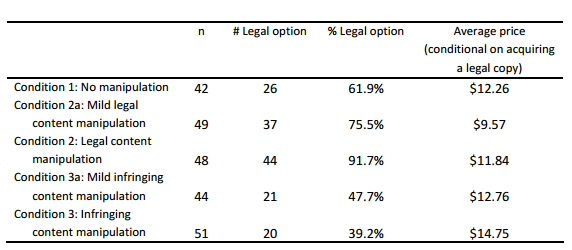 According to Professor Telang their findings suggest that even small changes can have a significant impact and that altering search algorithms can be instrumental in the fight against online piracy.
"The results suggest that the search engines may play an important role in fight against intellectual property theft," Telang says.
It has to be noted that Professor Telang and his colleagues received a generous donation from the MPAA for their research program. However, the researchers suggest that their work is carried out independently.
As a word of caution the researchers point out that meddling with search results in the real world may be much more challenging. False positives could lead to significant social costs and should be avoided, for example.
This and other caveats aside, the MPAA and RIAA will welcome the study as a new piece of research they can wave at Google and lawmakers. Whether that will help them to get what they want has yet to be seen though.