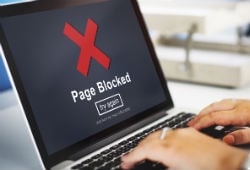 Once the preserve of countries like China whose government likes to routinely censor and control information, website blocking is now a regularly occurence elsewhere.
With commercial interests at their core, most website blocking efforts now take place under copyright law, to protect the business models of the world's leading entertainment companies. While that usually involves those in the movie and music industries, occasionally others get involved too.
That's now the case in Russia, where the UK division of Sony Interactive Entertainment (SIE) is currently taking steps to prevent the illegal distribution of its videogame products via online platforms.
According to local news outlet Izvestia, SIE has filed seven lawsuits at the Moscow City Court targeting sites that offer Sony titles without obtaining permission.
While they have not yet been named, the lawsuits indicate that copyright action has been taken against the sites before. This means that under Russia's strict anti-piracy laws, these repeat offenders can be subjected to the so-called "eternal lock." Under that regime, once ISP blockades are put in place, they stay in place forever.
Sergey Klisho, General Manager of Playstation in Russia, says that the lawsuits and subsequent court orders will enable the company to deal with the worst offenders.
"Positive changes in legislation aimed at protecting rightsholders, plus greater attention by state bodies to intellectual property rights violations, allows us today to begin to fight against piracy on the Internet," Klisho says.
According to Vadim Ampelonsky, a spokesman for telecoms watchdog Roskomnadzor, protection of gaming titles is becoming more commonplace, with companies such as Sony and Ubisoft resorting to legal action against sites offering pirated titles.
For Sony, it appears this action might only be the beginning, with a company representative indicating that more lawsuits are likely to follow in the future. But just how effective are these blockades?
Russian torrent giant RuTracker, which is permanently blocked by all local ISPs, believes that the effect on its operations is limited. Just recently the site's tracker 'announce' URLs were added to Russia's blocklist, on top of the site's main URLs which have been banned for some time.
That resulted in the site offering its own special app on Github this month, which allows users to automatically find proxy workarounds that render the current blocking efforts ineffective.
The tool is already proving a bit of a headache for Russian authorities. Internet Ombudsman Dmitry Marinichev says that Roskomnadzor won't be able to ban the software since it can spread by many means.
"I do not believe that Roskomnadzor can block any application," Marinichev says.
"You can prevent Google Play or Apple's iTunes from distributing them. But there is still one hundred and one ways left for these applications to spread. Stopping the application itself from working on the device of a particular user is a daunting task."
Interestingly, Marinichev also believes that targeting RuTracker is the wrong strategy, since the site itself isn't distributing infringing content, its users are.
"Rightsholders can not punish RuTracker. They are not engaged in piracy. Piracy is carried out by the ones who distribute and duplicate. It is impossible for the law to solve technological problems," he concludes.
It's an opinion shared by many in the pirate community, who continue to find technical solutions to many legal roadblocks.