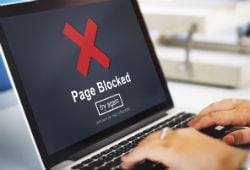 After well over a decade of rightsholders using the legal system to compel ISPs to block sites on copyright infringement grounds, thousands of domains are blocked by national service providers.
According to rightsholders, this type of action is necessary to prevent unauthorized access to pirated movies, TV shows and music, thus boosting legitimate consumption. The downside is that the associated court processes are complex, expensive, and not particularly timely.
The answer in some regions has been the introduction of voluntary agreements between rightsholders and ISPs to block allegedly infringing sites without the need for a court process.
Spanish Companies Sign Protocol in 2021
In April 2021, the Coalition of Content Creators and Industries, an association representing the local entertainment sector, plus partners including internet service providers (98% of ISPs in the country), signed a voluntary protocol designed to protect intellectual property rights.
The agreement, which was formulated with oversight from the government's General Directorate of Cultural Industries, Intellectual Property and Cooperation, was the product of meetings that began taking place in March 2020. The final text, reviewed and approved by the National Commission of Markets and Competition (CNMC), was aimed at websites declared to be involved in serious copyright infringements.
The agreement was to block these sites, to prevent internet users from gaining access to them, at least using ordinary means. After nine months of operations, Spain's Ministry of Culture and Sports says that hundreds of domains and subdomains have already been blocked under the protocol.
869 Domains and Subdomains Blocked
According to an earlier report published in September 2021 (pdf), in the first six months of the protocol 500 domains and subdomains, together making available hundreds of thousands of infringing files, were blocked by ISPs. That number has since expanded.
"A total of 172 Internet domains and 697 subdomains have been blocked in 2021 to prevent illegal access to millions of works (books, musical or audiovisual works, video games) protected by intellectual property rights," the Ministry reports.
"The blockades are the result of the work of the Ministry of Culture and Sports, through the General Directorate of Cultural Industries, Intellectual Property and Cooperation, the right holders and the internet service providers that have signed the Protocol for the reinforcement of the protection of intellectual property rights."
The government describes the protocol as operating well and working in favor of a digital ecosystem that respects content creators and telecoms companies, while also benefiting consumers, employment, the economy, plus "society as a whole".
Fast Responses to Complaints, Tackling Mirror Sites
In 2021, the 'Technical Committee' representing the parties to the protocol submitted 32 blocking consultations, almost on a weekly basis. Each time it accurately complied with the submission requirements which involve verification processes. The Ministry of Culture and Sport says that in all cases it responded within 72 hours and in many cases within 36.
In common with other countries implementing blocking, Spain also has a problem with blocked sites reappearing in new locations. According to the Ministry, this is being tackled under the agreement.
"Among other measures, it has been agreed to regulate a global response to judicial and administrative resolutions on offending pages to their 'mirror web' or replicas, created under other domains or subdomains to elude current legislation and judicial blocking orders," the government department adds.
Rightsholders and related groups participating in the agreement include AIE (Artists, Interpreters and Performers), AEVI (Spanish Association of Video Games), AGEDI-PROMUSICAE, SGAE (General Society of Authors and Publishers), CEDRO (Spanish Center for Reprographic Rights), EGEDA (Audiovisual Producers Rights Management Entity), FEDICINE (Federation of Film Distributors) and FGEE (Federation of Publishers Guilds of Spain).
Expanding the agreement to encompass other players in the content industries is also underway.
"At this time, the Ministry of Culture and Sports is promoting other agents in the digital ecosystem to join this Protocol, which makes it possible to realize a great agreement for the reinforcement of the protection of fundamental rights on the Internet that benefits the whole of society," the Ministry concludes.