Unlike official distribution channels, pirate sites don't have fixed calendar showing when a certain film will leak online.
Instead, pirates and pirate watchers can be found regularly browsing their favorite websites, to see if something of interest appears. A cumbersome task, although it does have its charms.
With Squawkr, however, movie fans now have the option to outsource this manual search labor. Instead, they just make a list of their most anticipated titles. Squawkr will then send an alert once a scene release becomes available.
TorrentFreak reached out to Jakob, the developer of the site, who says that the simplicity of the platform is one of its main selling points.
"I wanted to make Squawkr simple and easy to use, while being a powerful tool. It's very intuitive. Just log in, start adding movies and get notified. That's it," Jacob says.
The idea for Squawkr started about a year ago, when Jacob used to spend many hours searching for high-quality leaks, often without luck.
"Torrent sites are flooded with Cam rips and WEB-DLs, which is fine for people who like to watch those. But for someone who enjoys true HD movies, it can be a bit of a pain to go through all the crap, just to find the needle in the haystack."
Since he couldn't develop in PHP, Ajax and jQuery, the first six months were put into mastering the basic coding skills. Jakob then spent another half year improving the functionality and design.
The result is what people see today, and it's indeed quite intuitive. After logging in users can start adding movie titles, which is pretty much all there is to it.
Adding a movie to the watchlist
The site is focused on high-quality releases, mostly BluRay and DVD rips, and allows users to distinguish between 720p and 1080p quality. Other formats, such as WEB-DLs, could follow in the future if there is a high demand, but these will always be separate from the core experience.
After a movie is added to the watchlist Squawkr regularly polls the PreDB database of scene releases. When a movie is available in the desired format, the service sends a notification via email.
An email alert!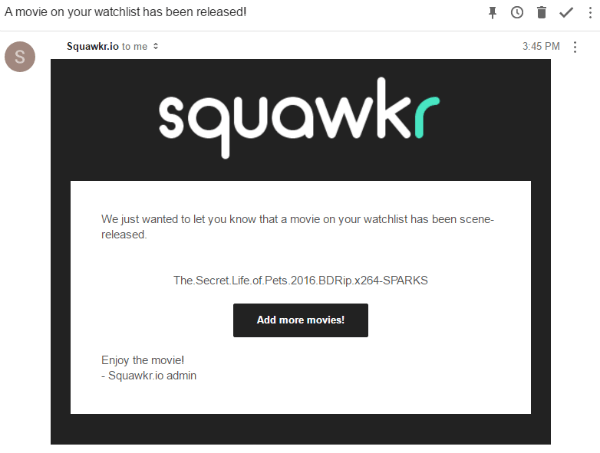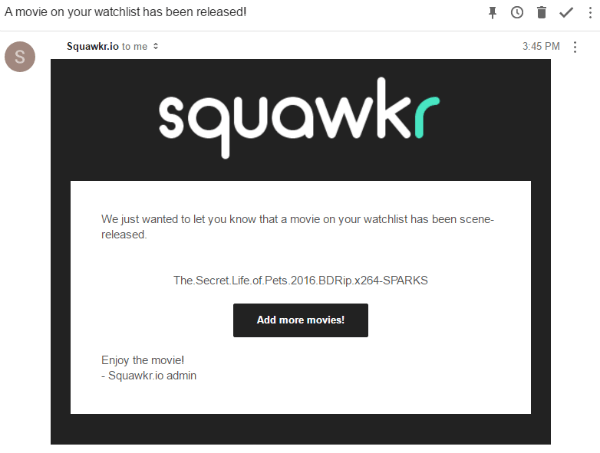 What started as a relatively small coding challenge has now turned into something more serious. After receiving positive feedback and requests from early users in the Piracy and HTPC subreddits, Jakob started to add more features.
PushBullet and Pushover notifications were introduced, for example, as well as a notifications archive where people can keep track of the alerts.
Another advantage is that the site is free to use, and that's not going to change anytime soon. That said, donations are always welcome.
As for the legal side, Jakob is aware of the risks. He consulted a lawyer before going live with the service, who advised him to be cautious. However, since there are no links to any pirated files on the site, no real problems are expected in his home country of Denmark.
Jakob prefers to focus on the positive instead. He hopes that a lot of people will appreciate his work. In a way, he is doling out gifts on a daily basis, which is a good fit for the festive season.
"When you receive Squawkr notifications about your most anticipated movies from your watchlist, it's like receiving a little present in your inbox. It's fun," he concludes.