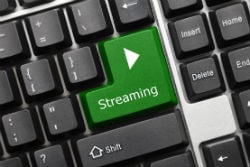 When there were few, if any, legal services available to stream movies and TV shows via the Internet, pirate sites had a virtual stranglehold on the entire market.
The obvious theory was that when entertainment industry groups came together to actually make their content both accessible and at a reasonable price (build it and they will come), visits to pirate sites would naturally decrease.
In Sweden, where The Pirate Bay and similar platforms have stamped their mark on the pirate landscape for at least 15 years, the market was crying out for legal options. Now there are a few to choose from, including Netflix and HBO Nordic, for example.
However, according to anti-piracy group Rights Alliance, the availability of legal services and indeed increased uptake of them among the public hasn't had a negative effect on the numbers of people using 'pirate' services.
"Unfortunately, we do not see a reduction in illegal use," Rights Alliance lawyer Sara Lindbäck informs Sveriges Radio.
"[Piracy rates] in Sweden are much higher than they are in the neighboring Nordic countries. We are at about 20%, so every fifth Swede uses an illegal service."
The claim that the volume of people using piracy sites isn't reducing in line with increased uptake of legal services will be a disappointment to the movies and TV industries. However, the big question is why this is the case. Lindbäck notes that pirate streaming sites are essentially free to use, which is a big attraction but there are other issues too.
Particularly in the case of movies, pirate sites are able to exploit weaknesses in the legal market. Theatrical and other windowing (such as the often extended wait for titles to appear on streaming services) means that pirate sites are the only option for early viewing of the latest content, something that keeps them relevant, even while people also subscribe to services like Netflix.
As reported last week, a very high percentage of pirates in Europe are also consumers of legal content, which means that improved legal options should mean that people turn to piracy less. In Sweden, there also appears to be a situation where people are happy to buy and pirate at the same time, with piracy supplementing legal consumption.
This inevitably leads Rights Alliance back down the enforcement route, calling for stricter penalties against pirate site operators and greater help from those supplying Internet connections to the public.
"[T]here is a proposal that awaits the government to [make piracy a] serious crime so that the sanctions will be greater and the police will have better tools to work against it," Lindbäck explains, adding that improved collaboration with ISPs might help to reduce piracy rates too.
Finally, education about piracy issues is often touted as a means to keep people away from pirate sites. Lindbäck believes that progress is being made in this area, with people noting that the money being made by pirate site operators via advertising, for example, is associated with crime and money laundering.
"I think there is a maturity that continues, surprisingly, about the use of the Internet," Lindbäck concludes.