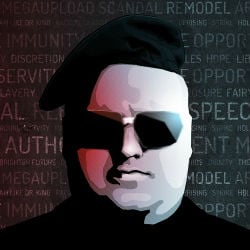 Since Megaupload was shut down two years ago, Kim Dotcom and several of his colleagues have been wanted by the United States, each standing accused of copyright infringement related crimes.
Despite the severity of the charges, Megaupload's legal team does not have insight into all of the relevant documents the U.S. Government relied upon to arrive at its conclusions.
Through the New Zealand courts Dotcom and his fellow defendants have requested access to this withheld information. To mount a proper defense they want to see the extent to which the U.S. authorities can back up their criminal charges.
Initially the District Court granted the request for full access to the U.S. evidence. However, March last year these rulings were overturned by the Court of Appeal, which concluded that the United States could move forward with a summary case.
After the defeat Dotcom and his legal team quickly filed an appeal at the Supreme Court, which today ruled against the entrepreneur and his associates. According to the Court's ruling, the District Court was wrong to order full disclosure of all U.S. evidence.
The Supreme Court states that the New Zealand Extradition Act doesn't require a foreign country to share all evidence with the accused, and the District Court had no statutory power to rule otherwise.
After hearing the verdict Dotcom responded on Twitter with a sad face. "Being defeated is often a temporary condition. Giving up is what makes it permanent," he quoted a few minutes later.
:-(

— Kim Dotcom (@KimDotcom) March 20, 2014
Earlier this week Dotcom enjoyed success in another legal matter by obtaining a gag order against his former bodyguard Wayne Tempero. After resigning a few months ago, Tempero was supposedly planning to make "secret revelations" about Dotcom's private life.
Under the injunction obtained by Dotcom, Tempero is "restrained from using or disclosing to any person, firm, corporation or entity, any confidential or trade information acquired whilst working for Kim Dotcom."
The former bodyguard is reportedly going to appeal the gag order in the hope of regaining his free speech rights. There is also talk of a possible lawsuit against his former boss.
For now, however, Dotcom's legal team will shift its focus to the upcoming extradition hearing. After yet another delay, the hearing is currently scheduled to take place in July this year.