Ask any half-interested user to name the best public torrent sites and many will fall back on those inhabiting the top ten most popular online today.
While there's much glory to be had, being one of the world's most-visited torrent indexes has its downsides.
Two huge sites previously in the top ten of 2016 – KickassTorrents and Torrentz – have now disappeared, with at least one falling victim to enforcement action. It's possible, if not likely, that more will fall in the months and years to come.
But what about sites outside the top ten? What about those in the top 50, top 100 or top 250? What happens to those on a day to day basis?
Well, each endures its own unique set of problems associated with running a torrent site but due to their size, most don't have high-powered law enforcement agencies breathing down their necks. That often means they're able to provide a steady service to users without too many headaches.
But while small is sometimes cool, obscurity is often the enemy of growth, both in terms of users and availability of content, with the former being the provider of the latter. That's where meta and/or multi-site search engines step in.
A meta-search engine is a search engine that searches other search engines, in this case other torrent sites and indexes. Without doubt, the most famous meta-search engine was Torrentz, but that shut down last week.
Torrentz be sorely missed. While it was always possible to visit The Pirate Bay or KickassTorrents to get a popular torrent, if that content was a little more rare, time-consuming visits to multiple sites might be necessary. Torrentz alleviated that problem by searching multiple sites at once and displaying the results in one location.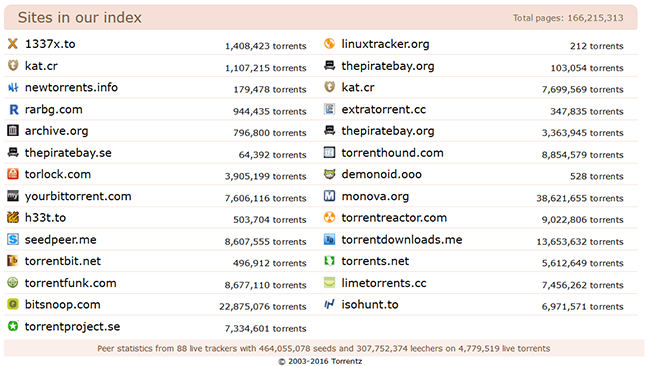 As the image above shows, most sites that were listed by Torrentz are very successful in their own right but the concept of meta-search doesn't have to stop at the biggest players.
There's no insurmountable reason why meta and multi-site search engines of the future won't index hundreds of diverse torrent sites, sites that might usually fly under the radar due to their small size and low public profile.
Of course, once these sites become more visible (and searchable) they will naturally grow in size, with the higher quality platforms securing a larger share of the traffic. For some, this could mean the loss of their quiet life status and for others, it might mean breaking into the top 10.
Whether these changes in status will turn out to be a help or hindrance is a matter for each site operator, but for the user it will mean greater access to a broader range of sites that are less likely to be taken down.
The authorities are reasonably happy to play whac-a-mole at the top, but doing so with hundreds of targets lower down the food chain becomes an expensive, chaotic, and ultimately unwinnable game.
Giants might be doomed to fall but the era of the thousand little men might be just around the corner – if people can find them.