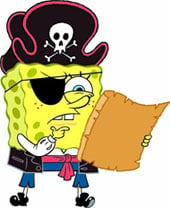 Dedicated Internet pirates dealing in fresh content or operating at any significant scale can be pretty sure that rightsholders and their anti-piracy colleagues are interested in their activities at some level.
With this in mind, most pirates these days are aware of things they can do to enhance their security, with products like VPNs often get discussed on the consumer side.
This week, in a report detailing the challenges social media poses to intellectual property rights, UK anti-piracy outfit Federation Against Copyright Theft published a list of techniques deployed by pirates that hinder their investigations.
Fake/hidden website registration details
"Website registration details are often fake or hidden, which provides no further links to the person controlling the domain and its illegal activities," the group reveals.
Protected WHOIS records are nothing new and can sometimes be uncloaked by a determined adversary via court procedures. However, in the early stages of an investigation, open records provide leads that can be extremely useful in building an early picture about who might be involved in the operation of a website.
Having them hidden is a definite plus for pirate site operators, especially when the underlying details are also fake, which is particularly common practice. And, with companies like Peter Sunde's Njalla entering the market, hiding registrations is easier than ever.
Overseas servers
"Investigating servers located offshore cause some specific problems for FACT's law-enforcement partners. In order to complete a full investigation into an offshore server, a law-enforcement agency must liaise with its counterpart in the country where the server is located. The difficulties of obtaining evidence from other countries are well known," FACT notes.
While FACT no doubt corresponds with entities overseas, the anti-piracy outfit has a history of targeting UK citizens who are reportedly infringing copyright. It regularly involves UK police in its investigations (FACT itself employs former police officers) but jurisdiction is necessarily limited to the UK.
It is possible to get overseas law enforcement entities involved to seize a server, for example, but they have to be convinced of the need to do so by the police, which isn't easy and is usually reserved for more serious cases. The bottom line is that by placing a server a long way away from a pirate's home territory, things can be made much more difficult for local investigators.
Torrent websites and DMCA compliance
"Some torrent website operators who maintain a high DMCA compliance rate will often use this to try to appease the law, while continuing to provide infringing links," FACT says.
This is an interesting one. Under law in both the United States and Europe, service providers are required to remove infringing content from their systems when they are notified of its existence by a rightsholder or its agent. Not doing so can render them liable, if the content is indeed infringing.
What FACT appears to be saying is that sites that comply with the law, by removing infringing content when asked to, become more difficult targets for legal action. It sounds very obvious but the underlying suggestion is that compliance on the surface is used as a protective mechanism. No example sites are mentioned but the strategy has clearly hindered FACT.
Current legislation too vague to remove infringing live sports streams
"Current legislation is insufficient to effectively tackle the issue of websites illegally offering coverage of live sports events. Section 512 (c) of the Digital Millennium Copyright Act (DMCA) states that: upon notification of claimed infringement, the service provider should 'respond expeditiously' to remove or disable access to the copyright-infringing material. Most live sports events are under two hours long, so such non-specific timeframes for required action are inadequate," FACT complains.
Since government reports like these can take a long time to prepare, it appears that FACT and its partners may have already found a solution to this particular problem. Major FACT client the Premier League now has a High Court injunction in place which allows it to block infringing streams on a real-time basis. It doesn't remove the content at its source, but it still renders it largely inaccessible in the UK.
Nevertheless, FACT calls for takedowns to be actioned more swiftly, noting that "the law needs to reflect this narrow timeframe with a specified required response period for websites offering such live feeds."
Camming content directly from cinema screen to the cloud
"Recent advancements in technology have made this a viable option to 'cammers' to avoid detection. Attempts to curtail and delete illicitly recorded film footage may become increasingly difficult with the emergence of streaming apps that automatically upload recorded video to cloud services," FACT reports.
Over the years, FACT has been involved in numerous operations to hinder those who record movies with cameras in theaters and then upload them to the Internet. Once the perpetrator has exited the theater, FACT has effectively lost the battle, but the possibility that a live upload can now take place is certainly an interesting proposition.
"While enforcing officers may delete the footage held on the device, the footage has potentially already been stored remotely on a cloud system," FACT warns.
Equally, this could also prove a problem for those seeking to secure evidence. With a cloud upload, the person doing the recording could safely delete the footage from the local device. That could be an obstacle to proving that an offense had even been committed when a suspect is confronted in situ.
Virtual currencies
"There is great potential in virtual currencies for money launderers and illicit traders. Government and law enforcement have raised concerns on how virtual currencies can be sent anonymously, leaving little or no trail for regulators or law-enforcement agencies," FACT writes.
For many years, pirates of all kinds have relied on systems like PayPal, Mastercard, and Visa, to shift money around. However, these payment systems are now more difficult to deploy on pirate services and are more easily traced, even when operators manage to squeeze them through the gaps.
The same cannot be said of bitcoin and similar currencies that are gaining in popularity all the time. They are harder to use, of course, but there's little doubt accessibility issues will be innovated out of the equation at some point. Once that happens, these currencies will be a force to be reckoned with.
The UK government's Share and Share Alike report, which examines the challenges social media poses to intellectual property rights, can be downloaded here (pdf)