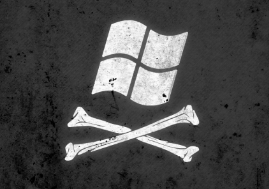 Over the past few years it has become much easier to stream movies and TV-shows over the Internet.
Legal streaming services such as Netflix and Amazon are booming. At the same time, however, there's also a dark market of thousands of pirate streaming tools.
In recent months, Hollywood has directed many its anti-piracy efforts towards unauthorized Kodi-addons and several popular pirate streaming sites, which offer movies and TV-shows without permission. What seems to be largely ignored, however, is a "store" that hundreds of millions of people have access to; the Windows App Store.
When we were browsing through the "top free" apps in the Windows Store, our attention was drawn to several applications that promoted "free movies" including various Hollywood blockbusters such as "Wonder Woman," "Spider-Man: Homecoming," and "The Mummy."
Initially, we assumed that a pirate app may have slipped past Microsoft's screening process. However, the 'problem' doesn't appear to be isolated. There are dozens of similar apps in the official store that promise potential users free movies, most with rave reviews.
Some of the many pirate apps in the "trusted" store
Most of the applications work on multiple platforms including PC, mobile, and the Xbox. They are pretty easy to use and rely on the familiar grid-based streaming interface most sites and services use. Pick a movie or TV-show, click the play button, and off you go.
The sheer number of piracy apps in the Windows Store, using names such as "Free Movies HD," "Free Movies Online 2020," and "FreeFlix HQ," came as a surprise to us. In particular, because the developers make no attempt to hide their activities, quite the opposite.
The app descriptions are littered with colorful language offering the latest Hollywood movies, and thousands of others, without charge. In addition, the apps display their capabilities in various screenshots, including those showing movies that are not yet available on legal streaming platforms.
Screenshot provided by the Windows app store
Making matters worse, the applications show advertising as well, including high-quality pre-roll ads. Some of these appear to be facilitated through Microsoft's own Ad Monetization platform. Other apps offer paid versions or in-app purchases to monetize their service.
After hours of going through the pirate app offerings, it's clear that Microsoft's "trusted" Windows Store is ridden with unauthorized content. Thus far we have only mentioned video, but the issue also applies to pirated music in the form of dedicated streaming and download apps.
Earlier this year, Microsoft signed a landmark anti-piracy agreement with several major copyright holders, to address pirate search results in the Bing search engine. The above makes clear that search results in the Microsoft Store store may require some attention too.
TorrentFreak reached out to Microsoft, asking for a comment on our findings, but at the time of publication we haven't yet heard back.
Update: Commenting on our findings, Microsoft states that rightsholders can send takedown notices if they see any infringing apps.
"We take reports that there is intellectual property infringement or inappropriate content in our Store seriously and we will review this recent report to its fullest. In an effort to offer our customers quality content they can feel confident in, we continually work with our developers to ensure that they are in compliance with our Application Developer Agreement and our Store Policies.
"If intellectual property owners find an app in our Store they feel violates their Intellectual property, they can submit a complaint via Microsoft's Trademark and Copyright Protection Page. Additionally, we always encourage customers to report any issues they may encounter with the Windows Store. For most issues, customers can use the "Report Concern to Microsoft" link in the Windows Store." a Microsoft spokesperson said.