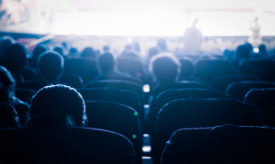 The earlier a film ends up on pirate sites, the more filmmakers, cinemas, and other players in the movie industry stand to lose.
This is the main reason why movie theaters keep a very close eye on their visitors.
Employees are specifically trained and instructed to recognize potentially suspicious behavior so they take action in response. Those who help to catch a pirate, are eligible for hard cash bounties.
In the UK, the Film Content Protection Agency (FCPA) is in charge of these rewards as well as educating cinema personnel. This is much needed, it appears, as there are piracy 'incidents' in UK movie theaters on a weekly basis.
According to the latest annual report from the UK Cinema Association, 2018 saw a record number of 'film theft' related incidents, wrapped in a positive sauce.
"Despite ongoing attempts by individuals to record films in cinema theaters there were 140 separate incidents in UK cinemas in 2018, a new record – much of the year saw the continuation of a period of unprecedented success in this regard," the report reads.
While people are frequently caught trying to record movies, leaks from UK cinemas are rare, the association notes. In fact, no leaked films could be tracked to the UK for a period of three consecutive years. However, that also changed in 2018.
In October, a pirated copy of a newly-released film was traced back to a Birmingham cinema and this was followed by two more, but unrelated, leaks from Cornwall.
This is obviously a setback, but the Cinema Association notes that the FCPA is investigating the cases with the authorities, hoping to bring the perpetrators to justice, as it did with a 21-year old man from Sunderland last summer.
"As the year closed, the FCPA was collaborating on investigating these three
cases with the Police Intellectual Property Crime Unit (PIPCU), based at the City of London Police," the annual report notes.
As for the increase in reported incidents, it is not clear whether this reflects an actual uptick in piracy attempts. Last year, more than 2,200 cinema staff from 68 UK cinemas attended the FCPA's anti-piracy briefings, so it's possible that elevated awareness is playing a role too.
Increased vigilance is also a reason to keep the bounty program in place. Theater employees are eligible for a reward of up to £1,000 for spotting pirates.
"Encouraging and incentivising such vigilance and awareness is vital – so the FCPA has continued to acknowledge cinema staff for their efforts in tackling film piracy through its reward programme," the report reads.
"Across the year, a record 52 cinema staff were formally recognised for successfully disrupting attempts to illegally record films and presented with cash rewards at presentations in March and September," the Cinema Association adds.
On its website, the FCPA provides further guidance on how to spot pirates. Among other things, it recommends using night-vision goggles.
"Modern, lightweight, silent night vision devices may be available at your cinema. Their use during screen checks is warmly encouraged, especially for new releases most vulnerable to theft," the advice reads.
With these and other measures, the UK movie industry hopes to keep piracy incidents under control. Sharper surveillance may initially lead to more reported incidents, but if it pays off, the number of actual leaks should drop to zero again.