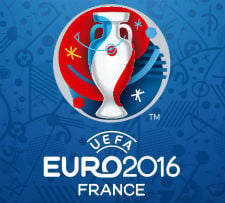 In a few hours the 2016 UEFA Euro Cup kicks off in France, an event that will be seen by more than hundred million soccer fans from all over the world.
While most people watch the matches through licensed broadcasters, there is also a large group of people who resort to shady sources.
Most popular are the so-called "pirate" streaming sites where fans can watch the game live. These typically generate millions of views during popular sporting events.
In addition, those looking for an archive copy of a match or higher quality video, can find pirated copies on numerous torrent sites, where HD copies are uploaded minutes after the final whistle.
These unauthorized transmissions are a thorn in the side of various rightsholders and some are taking action to prevent it. Before the event kicks off, Sony Pictures Network (SPN) has already issued the first warnings.
From a known source who prefers to remain anonymous, TorrentFreak obtained a copy of the letter SPN sent to torrent sites and possibly streaming sites as well.
"Please be advised that our Client has exclusive Television Rights, Mobile Transmission Rights and Broadband Internet Transmission Rights for the upcoming 2016 UEFA Euro Cup," the letter begins.
The Indian branch of Sony Pictures goes on to explain that they have the exclusive rights to broadcast the event in various countries, through ESPN and other platforms.
Logically, this means that torrent sites and pirate streaming portals are not allowed to offer the same content.
"Any manner of communicating and/or making available for viewing the UEFA EURO CUP 2016 matches on any platform shall therefore amount to violation of our Client's exclusive rights in which our client has invested significant amount of money," SPN writes.
Pre-piracy warning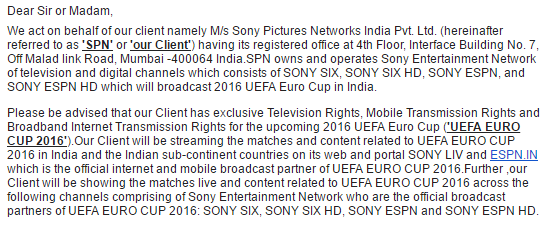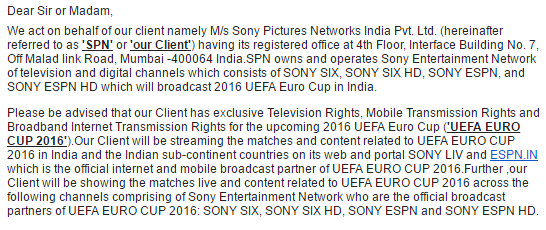 The "pre-piracy" warning alerts the site operators to possible legal consequences, including criminal prosecutions.
The company explicitly states that it's "compelled to initiate legal proceedings (civil and/or criminal) should you engage in violation of our Client's rights despite the present notice."
Despite the startk language, the site owner who informed us about the notice says he has no plans to take action in response. Quite the contrary, the letter actually serves as a reminder to make sure that users have access to the latest UEFA Euro Cup matches.
"I forgot that we need to upload UEFA. It's good that they reminded us," the torrent site operator told TorrentFreak.