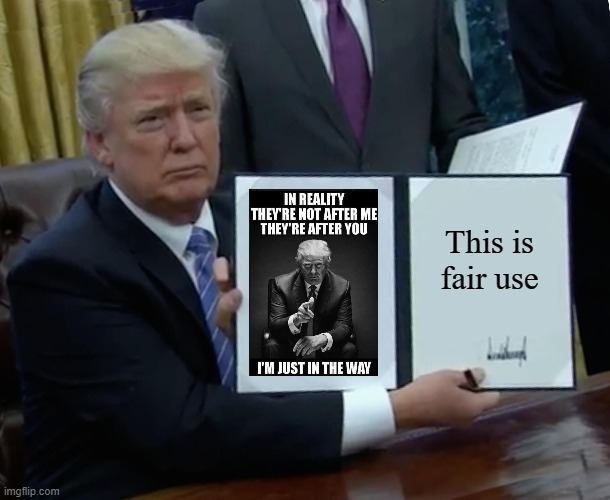 A few days ago, the mainstream media jumped all over the news that the New York Times had removed a Trump 'meme', posted by President Trump, on Twitter.
The NYT owns the right to the underlying photo that was taken by photographer Damon Winter and used in a 2015 feature on the President.
While the newspaper admitted that there are fair-use considerations with these type of memes, it saw Trump's post as copyright infringement and submitted a DMCA takedown notice to which Twitter swiftly complied.
Fair Use?
In a fast-paced news cycle, this story is pretty old by now. However, the claim lodged against President Trump is unique enough to warrant a follow-up. Especially because the meme in question was, and still is, being widely used by others.
When we reached out to the NYT wast week the paper informed us that it would investigate other uses of the same meme – which run to the many thousands – to see if these qualify as fair use or not.
"We are looking at the other social media accounts that are using it to determine whether they, too, are in violation of copyright laws. That requires a case-by-case fair use analysis, which is ongoing," NYT spokesperson Eileen Murphy tells TorrentFreak.
While we don't know the outcome of this investigation, a search on Lumen's takedown notice repository reveals that Trump's tweet remains the only image targeted. As such, it looks like the President's post was specifically targeted.
This may not come as a surprise, considering the tension between some mainstream media outlets and President Trump. However, these tensions generally don't involve copyright claims.
Earlier this week we asked NYT whether it has reached a decision in the fair use analyses of other users who posted the same image. The newspaper didn't answer directly but says that it intends to act if action is "justified".
"In each instance, we are required to make an individual assessment of the usage. When we think some sort of action is justified, we intend to act," a NYT spokesperson tells us.
Facebook Hasn't Taken the Meme Down
Thus far, the newspaper hasn't sent any new takedown requests to Twitter. However, it did confirm that a takedown notice was sent also to Facebook, where President Trump posted the same meme. Interestingly, this post is still online today.
Trump's Facbook Post
Following up on this, we reached out to Facebook to ask if the platform sees this post as fair use, which it could be, but the company didn't respond. For now, the Facebook post survives.
One has to wonder whether the NYT's approach is this situation was smart if their intention was to prevent copyright infringement.
By issuing the takedown request the newspaper elevated the tweet to world news. This triggered many others to repost the meme, which amplified the (possibly fair use) 'infringements' in what can be considered an exemplary case of the Streisand Effect.