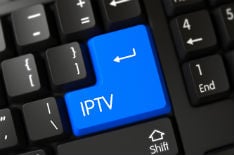 Terms including "Kodi box" are now in common usage in the UK and thanks to continuing coverage in the tabloid media, more and more people are learning that free content is just a few clicks away.
In parallel, premium IPTV services are also on the up. In basic terms, these provide live TV and sports through an Internet connection in a consumer-friendly way. When bundled with beautiful interfaces and fully functional Electronic Program Guides (EPG), they're almost indistinguishable from services offered by Sky and BTSport, for example.
These come at a price, typically up to £10 per month or £20 for a three-month package, but for the customer this represents good value for money. Many providers offer several thousand channels in decent quality and reliability is much better than free streams. This kind of service was offered by prominent UK provider ACE TV but an announcement last December set alarm bells ringing.
"It saddens me to announce this, but due to pressure from the authorities in the UK, we are no longer selling new subscriptions. This obviously includes trials," ACE said in a statement.
ACE insisted that it would continue as a going concern, servicing existing customers. However, it did keep its order books open for a while longer, giving people one last chance to subscribe to the service for anything up to a year. And with that ACE continued more quietly in the background, albeit with a disabled Facebook page.
But things were not well in ACE land. Like all major IPTV providers delivering services to the UK, ACE was subjected to blocking action by the English Premier League and UEFA. High Court injunctions allow ISPs in the UK to block their pirate streams in real-time, meaning that matches were often rendered inaccessible to ACE's customers.
While this blocking can be mitigated when the customer uses a VPN, most don't want to go to the trouble. Some IPTV providers have engaged in a game of cat-and-mouse with the blocking efforts, some with an impressive level of success. However, it appears that the nuisance eventually took its toll on ACE.
"The ISPs in the UK and across Europe have recently become much more aggressive in blocking our service while football games are in progress," ACE said in a statement last month.
"In order to get ourselves off of the ISP blacklist we are going to black out the EPL games for all users (including VPN users) starting on Monday. We believe that this will enable us to rebuild the bypass process and successfully provide you with all EPL games."
People familiar with the blocking process inform TF that this is unlikely to have worked.
Although nobody outside the EPL's partners knows exactly how the system works, it appears that anti-piracy companies simply subscribe to IPTV services themselves and extract the IP addresses serving the content. ISPs then block them. No pause would've helped the situation.
Then, on March 24, another announcement indicated that ACE probably wouldn't make it very far into 2019.
"It is with sorrow that we announce that we are no longer accepting renewals, upgrades to existing subscriptions or the purchase of new credits. We plan to support existing subscriptions until they expire," the team wrote.
"EPL games including highlights continue to be blocked and are not expected to be reinstated before the end of the season."
The suggestion was that ACE would keep going, at least for a while, but chat transcripts with the company obtained by TF last month indicated that ACE would probably shut down, sooner rather than later. Less than a week on, that proved to be the case.
On or around March 29, ACE began sending emails out to customers, announcing the end of the company.
"We recently announced that Ace was no longer accepting renewals or offering new reseller credits but planned to support existing subscription. Due to mounting legal pressure in the UK we have been forced to change our plans and we are now announcing that Ace will close down at the end of March," the email read.
"This means that from April 1st onwards the Ace service will no longer work."
April 1 was yesterday and it turns out it wasn't a joke. Customers who paid in advance no longer have a service and those who paid a year up front are particularly annoyed. So-called 're-sellers' of ACE are fuming more than most.
Re-sellers effectively act as sales agents for IPTV providers, buying access to the service at a reduced rate and making a small profit on each subscriber they sign up. They get a nice web interface to carry out the transactions and it's something that anyone can do.
However, this generally requires investment from the re-seller in order to buy 'credits' up front, which are used to sell services to new customers. Those who invested money in this way with ACE are now in trouble.
"If anyone from ACE is reading here, yer a bunch of fuckin arseholes. I hope your next shite is a hedgehog!!" one shouted on Reddit. "Being a reseller for them and losing hundreds a pounds is bad enough!!"
While the loss of a service is probably a shock to more recent converts to the world of IPTV, those with experience of any kind of pirate TV product should already be well aware that this is nothing out of the ordinary.
For those who bought hacked or cloned satellite cards in the 1990s, to those who used 'chipped' cable boxes a little later on, the free rides all come to an end at some point. It's just a question of riding the wave when it arrives and paying attention to the next big thing, without investing too much money at the wrong time.
For ACE's former customers, it's simply a case of looking for a new provider. There are plenty of them, some with zero intent of shutting down. There are rumors that ACE might 'phoenix' themselves under another name but that's also par for the course when people feel they're owed money and suspicions are riding high.
"Please do not ask if we are rebranding/setting up a new service, the answer is no," ACE said in a statement.
And so the rollercoaster continues…