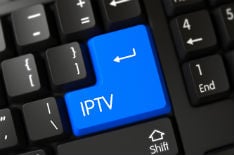 If the figures that were cited following the recent international police operation against Xtream Codes are any yardstick, providers and sellers of 'pirate' IPTV providers currently number in their thousands.
While there are relatively few sources at the very top of the pyramid, there could be in excess of 5,000 players selling IPTV subscriptions to the public, which by recent estimates could dwarf even the five million accounts cited by the authorities.
In common with the task of removing every torrent, streaming and similar site from the Internet, the possibility of handing a death blow to the entire IPTV industry seems a distant dream for content providers. But that doesn't mean incremental efforts aren't underway.
As previously documented, the massive Alliance for Creativity and Entertainment, which comprises dozens of the world's largest content companies, is quietly taking down sellers and providers of IPTV. Today we can reveal that another four have had their domains commandeered by MPA America, the organization previously known as the MPAA.
VStreamTV.com first appeared to gain traction back in 2015, selling an inconspicuous set-top box to the public. Promising no contract and no monthly fees, the $349 device boasted 100,000 movies and TV shows, plus 1,000 channels of live entertainment.
By 2019, the site was offering its latest 'VS4+' device, promising unlimited entertainment to customers looking to permanently cut the cord. Then, a few weeks ago, it all came to an end. The site shut down without notice after its domain was taken over by the MPA. Like many before it, it now directs to the anti-piracy portal operated by ACE.
According to web records, MaxTVLive.com only appeared on the scene in 2018. Among other things, the site seems to have offered a custom Android APK to be installed on users' own devices. For the price of $25 per month, Max TV users could enjoy live TV and other content on a single device, with extra devices costing an extra $5 per month.
However in common with VStreamTV, a few weeks ago the party came to an abrupt end. It seems likely that ACE came knocking with demands to shut down the business as the service's website is now owned by the MPA and redirects to the ACE portal.
What ultimately happened with MyIQXTV.com isn't in question – it was taken over by the MPA and now redirects to the ACE portal. We weren't able to recover a copy of the operation's website but if it was in any way connected to the IXQtv service (note subtle difference in spelling), it's no surprise it appeared on the MPA/ACE radar.
IXQtv shut down August 1st and was no ordinary operation. While many IPTV providers operate via resellers, IXQtv operated a ridiculously full-blown multi-level-marketing (MLM) scheme which paid affiliates not only on sales of streaming packages but also commissions for recruiting yet more affiliates. Think Amway for IPTV.
Finally, the obviously-named JailbrokenBlackBox.co takes last place on today's update of recent domain takeovers. Information on precisely what packages, services or tools the site offered isn't clear but like the others, it clearly attracted the negative attention of the world's biggest entertainment companies.
Details of earlier domain takeovers carried out by ACE and the MPA against IPTV-related operations can be found here (1,2,3,4)