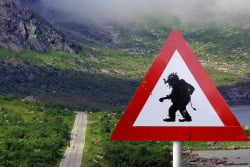 Sweden is widely known as the birthplace of The Pirate Bay, without a doubt the most iconic torrent site on the Internet.
However, in recent years the country has also evolved into a hotbed for copyright trolls. These use the same file-sharing technology to extract monetary settlements from suspected pirates.
This 'copyright-trolling' phenomenon is driven by a select group of copyright holders. In court, they ask for permission to obtain the personal details of account holders, claiming that their IP-addresses are tied to infringing activity.
The law firms involved represent a variety of companies, including the makers of familiar movie and TV titles such as 'Angel Has Fallen,' 'Black Sails' and 'Spartacus,' but also music, and adult entertainment.
The first wave of these lawsuits in Sweden started almost four years ago but the practice has grown exponentially since. According to Swedish Internet provider Bahnhof, which has kept track of these developments, record numbers were reached last year.
During 2019, a total of 140 new applications were submitted to the Patent and Market Court. This is up from 72 during the whole of 2018, and substantially more than the 27 applications that were filed a year earlier.
Not only has the number of applications grown, but the cases also target more IP-addresses in total. In 2019, 60,368 IPs were targeted which is a 15% increase compared to 2018. Combined with the 2017 numbers, we see that more than 144,000 IP-addresses have been targeted over the past three years.
It's worth noting that this exceeds the number of targets in other, much larger countries, including the United States. While the US has a much larger population, the number of targeted IP-addresses in federal cases are at most a few thousand in a typical year.
It may seem odd that an Internet provider is keeping track of these statistics. Especially when considering that Bahnhof has an entire website dedicated to the copyright trolling efforts, which it describes as extortion practices.
However, Bahnhof is not an ordinary ISP. The company has been very vocal in opposing these legal demands and actively shields its subscribers from getting exposed. With success, as it simply doesn't hand over any data.
This dedication to protecting the privacy of subscribers is good PR for the company. Its competitors, however, will be less pleased.
According to Bahnhof, four ISPs were requested to disclose data during the past year. Telia was the main target with 31,572 IP-addresses, followed by Com Hem (19,520), Telenor (9,276), and Tre (312).
A significant number of the targeted IP-addresses were requested by adult entertainment companies, which results in settlement requests such as the one below.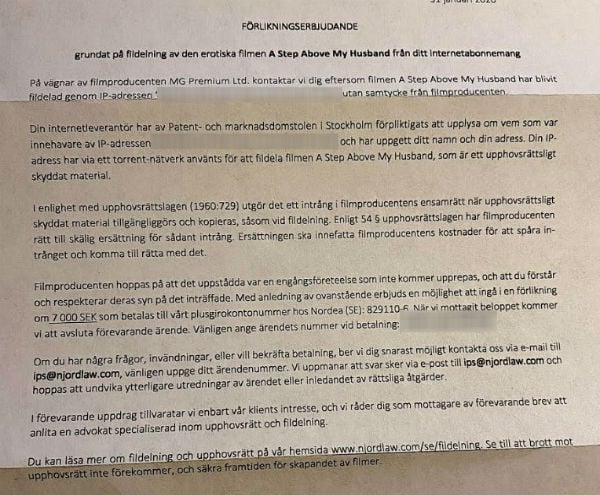 In the request, the account holder is offered a settlement of 7,000 Swedish Krona ($722). At the top of the letter, it prominently states that this is about "filesharing of an erotic movie".
According to Bahnhof, this type of language is likely used to invoke some extra shame, which may increase the likelihood of paying.
As for the future, there is no sign that things will be slowing down anytime soon. Dozens of new cases have already appeared this year. Time will tell whether we will see another record in 2020.
More information on these and other cases is available on Bahnhof's website, which is regularly updated with new information.