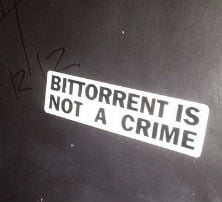 Among the broader public BitTorrent Inc. is mostly know as the parent company of the popular BitTorrent and uTorrent software applications.
The two file-sharing clients, which have a base of roughly 170 million monthly users, are also the main sources of revenue for the venture capital-backed company.
Over the years BitTorrent has tried to launch many other applications and services to diversify its revenue stream, but these efforts haven't been very successful.
One of the best received projects is perhaps "Sync," a Dropbox competitor that allows users to securely sync folders across multiple devices using the BitTorrent protocol. Within a few months the new tool had over a million users sharing dozens of petabytes of data.
Despite this success, BitTorrent Inc. is now saying farewell to the Sync application which it will spinoff into a new company.
Name Resilio, the new company will rebrand Sync as "Connect" and continue its development under the wings of BitTorrent's former CEO Eric Klinker, Variety reports.
BitTorrent Inc., meanwhile, will increase its focus on media. This is something Klinker was hesitant about, as not all rightsholders are happy with BitTorrent's role in the piracy ecosystem.
However, with two new CEO's steering the ship the company has set sail for Los Angeles, where it will soon open a new office.
As part of the new strategy the company will focus on offering a wide range of 'legitimate' entertainment through several new applications.
This includes the recently announced BitTorrent Live service, which will launch with a wide variety of programming. Live streaming has been one of the main focuses of BitTorrent inventor Bram Cohen for a long time, but the technology has yet to see its breakthrough.
In addition to streaming, the company will continue to promote artist "bundles" though their BitTorrent and uTorrent clients.
In recent years BitTorrent Inc. has had trouble building new revenue streams. Just last year it had to lay off one third of its workforce, so the company hopes that this new direction will pay off in the long run.