'Operation 404' is an ongoing law enforcement initiative in Brazil that aims to disrupt the availability of pirated content online.
Operation 404 took on pirate IPTV services in 2022, but earlier waves have targeted everything from regular websites to popular Android apps.
According to a government announcement, authorities have just shut down "the two biggest digital anime pirate sites" in Brazil as part of Operation 404 offshoot, 'Operation Anime'.
Operation Anime
Information provided by the Ministry of Justice and Public Security states that Operation Anime was led by the Minas Gerais State Civil Police. The objective was to "repress crimes committed against intellectual property" on the internet, specifically piracy of Japanese cartoons, better known as anime.
"The action is part of a mobilization coordinated by the National Secretariat for Public Security, of the Ministry of Justice and Public Security (Senasp/MJSP), through the Cybernetic Operations Laboratory," the announcement adds.
The Laboratório de Operações Cibernéticas, as it's known in Brazil, is more closely associated with the mitigation of cyberattacks than it is piracy. However, since many crimes can have an online component, preventing serious crime and tracking down offenders is also part of the unit's remit.
"Two Biggest Digital Anime Piracy Sites Taken Down"
The Ministry of Justice notes that the operation received support from the Content Overseas Distribution Association (CODA), an anti-piracy group that helps to protect anime content in Japan and overseas.
The statement indicates a significant operation; search and seizure warrants, blocking and/or suspension of websites, action against content in search engines, and the removal of profiles and pages on social networks.
"During the execution of the warrants, the objective is to seize computer equipment, including: internal HDs, computer devices, which demonstrate the materiality of the crime. The two biggest anime digital piracy sites have been taken down," the government department adds.
Having supplied an abundance of information relating to who did what, where, and why, the names of the sites claimed to have been shut down are never mentioned, despite being the most important part of the story.
Report on Brazilian TV
The TV report embedded below doesn't name the sites either but does reveal some details of the operation. Speaking in Portuguese, a police officer says that a target was identified in Arapiraca, the second-largest city in the Alagoas region.
An unnamed 22-year-old computing student is suspected of running a large anime piracy site.
The officer explains that running a piracy site could lead to four years in prison, "and with this regulation here in Alagoas, this young man must be indicted for the crime of piracy."
Was BetterAnime Targeted?
When Brazilian authorities report Operation 404 successes, they rarely mention specific dates for individual actions. Indeed, there is some evidence to show that sites or applications may have been taken down or blocked over longer periods, weeks or even months.
Given the timing, some believe that BetterAnime.net was taken down as part of Operation Anime. The site enjoyed around six million visits each month, with users mostly complimentary regarding its speed and content selection.
A tweet published on the site's official Twitter account yesterday confirms the closure of BetterAnime but says it had nothing to do with the government's announcement.
"[F]or crying out loud. I wasn't arrested," the tweet insists.
"It happened to be at the same time. I received a DMCA notice with a 'request' to shut down the site. If you don't comply, the thing could lead to court, etc."
A message on the now-shuttered site adds the following: "For copyright reasons, the BetterAnime website has been closed down. It was a good journey and full of learning, but the time has come to close the project. Thank you to everyone who has supported us during this time."
Case solved? Probably not.
Other Sites Targeted Recently?
With around five million visits each month and 95% of its traffic originating from Brazil, Animes-Vision has a similar profile to BetterAnime. Or rather it did, until recently.
A notice on the site confirms that its operators decided to close the platform down "for major and copyright reasons."
There's no direct information to confirm any arrests, but in any case, five million visits per month wouldn't be anywhere near enough to claim the number one or even number two slots taken by the largest anime piracy sites in Brazil.
The recent shutdown of Anbient.com provides few additional clues. With over 60% of its traffic hailing from Brazil but with around 100,000 visits per month, the site simply wasn't big enough to match the profile mentioned by the authorities.
The shutdown notice displayed on the former anime platform (above) is mostly generic, but in sticky situations, that's often the case. Especially so when compliance with a cease-and-desist notice offers a much simpler way out.
Two Serious Contenders
Since anime-online.site is completely offline, there's obviously no notice to report here. The site appears to have been popular in Brazil but with just a few hundred thousand visits per month, it can't be considered a major player. A site with a similar name can.
Currently offline and displaying a Cloudflare error, animesonline.cc fits the profile perfectly. In December 2022 alone the site had over 20 million visits, and 99% of its traffic originated from Brazil.
The Cloudflare error appears regardless of visitor location but we can't yet confirm the reasons for the message or the downtime. As far as we're aware, the site's downtime is yet to be explained and people are beginning to ask questions.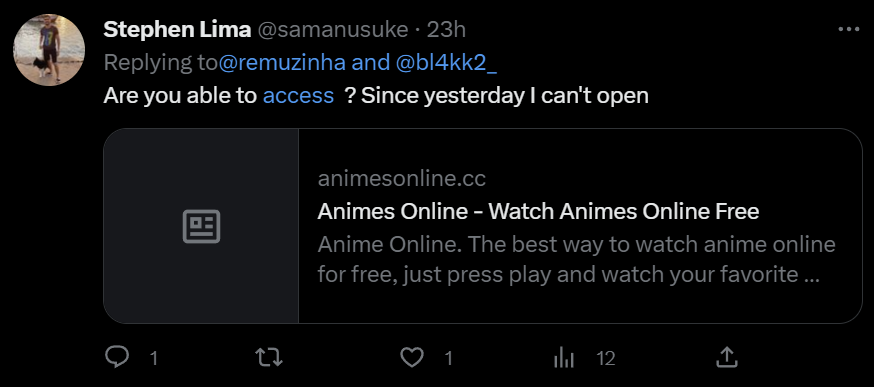 Interestingly, or potentially entirely coincidentally, the same Cloudflare message also appears on another massively popular anime piracy site.
Animefire.net had 10 million visits in December 2022, and almost 92% of its visitors were from Brazil. It meets the criteria mentioned by the Brazilian government perfectly. It may suddenly reappear online unscathed but that would contradict the government's claims that the two largest anime piracy sites have been taken down. Stranger things have happened, of course, but there are other things to consider.
Mystery Solved or More Mystery?
While numerous moving parts can distort site popularity, Animes-Online.cc and Animefire.net seem likely to have been the two most popular anime piracy sites in Brazil, at least before they went offline. They may yet return but in the meantime, here's an interesting coincidence.
With 22.3 million visits in December 2022 and over 99% of its audience coming from Brazil, Mangalivre.net is a hot contender for Brazil's most popular site for Japanese comics, otherwise known as manga. Right now the site is down and displaying the same Cloudflare error as those on the anime sites.
Update: We're informed that mangalivre is blocking visitors outside Brazil. There are a number of reports that users in Brazil are still experiencing issues but we can confirm the site is up
After pulling in millions of visitors in December 2022, sites also down and showing exactly the same Cloudflare message include Animeyabu.com and Animesbr.biz.
Other sites in the anime and manga niches appear to be offline too. Given that there are obvious links between some of these sites (and many other sites not even mentioned here), could that mean they're all experiencing simultaneous but coincidental technical difficulties?
It's also possible that they've all been taken down as a precautionary measure due to the recent actions in Brazil, and will eventually return as if nothing has happened. Or maybe, potentially, the authorities in Brazil – with help from Japan – have hit the jackpot.
Given that not even the names of the sites taken down are being made public, all options remain on the table. Coincidences happen – regularly. We'll have to sit and wait patiently, just like everyone else.